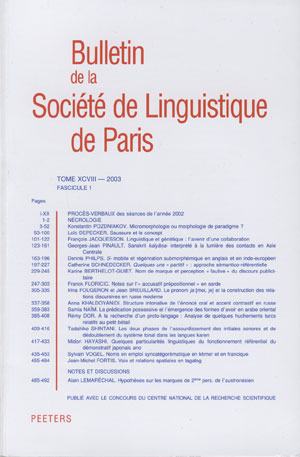 Document Details :

Title: Les 'autres langues' dans le Bulletin et les publications de la SLP
Author(s): LEMARÉCHAL, Alain
Journal: Bulletin de la Société de Linguistique de Paris
Volume: 100 Issue: 1 Date: 2005
Pages: 269-302
DOI: 10.2143/BSL.100.1.2015460

Abstract :
Par «autres langues», il faut entendre, comme on l'a fait dans certains tomes du BSL, les langues autres qu'indo-européennes, chamito-sémitiques, finno-ougriennes, qui, elles, étaient largement abordées; les «autres langues»l'ont été très irrégulièrement selon les époques aussi bien dans les articles qu'à travers les comptes rendus: on sera surpris d'apprendre que c'est dans les décennies 1970 et 1980 qu'elles y ont été le plus défavorisées. Certes, il est difficile pour une revue généraliste de tout couvrir, et la présence de comptes rendus et d'articles relevant des différents domaines disciplinaires dépend de celle de linguistes spécialistes de ces domaines dans les institutions d'enseignement et de recherche, mais elle reflète avant tout l'orientation du Bulletin et de la Société ainsi que l'image qu'elle a voulu donner d'elle-même et qu'on a eu d'elle. Des leçons pour l'avenir sont certainement à en tirer.


---


As in certain volumes of the BSL, the term «other languages» refers to languages other than Indo-European, Chamito-Semitic, and Finno-Ugric languages, which were extensively studied. «Other languages» have been very irregularly the subject of articles and reviews at various times with, surprisingly, the lowest publication rate in the 1970s and 1980s. It is clearly difficult for a generalist journal to cover all aspects of the field and the subject of reviews and articles obviously depends on the special interests of linguists in teaching and research institutions, but it also reflects the orientation and image of the Bulletinand the Société. A number of lessons for the future can certainly be drawn from these findings.




Download article