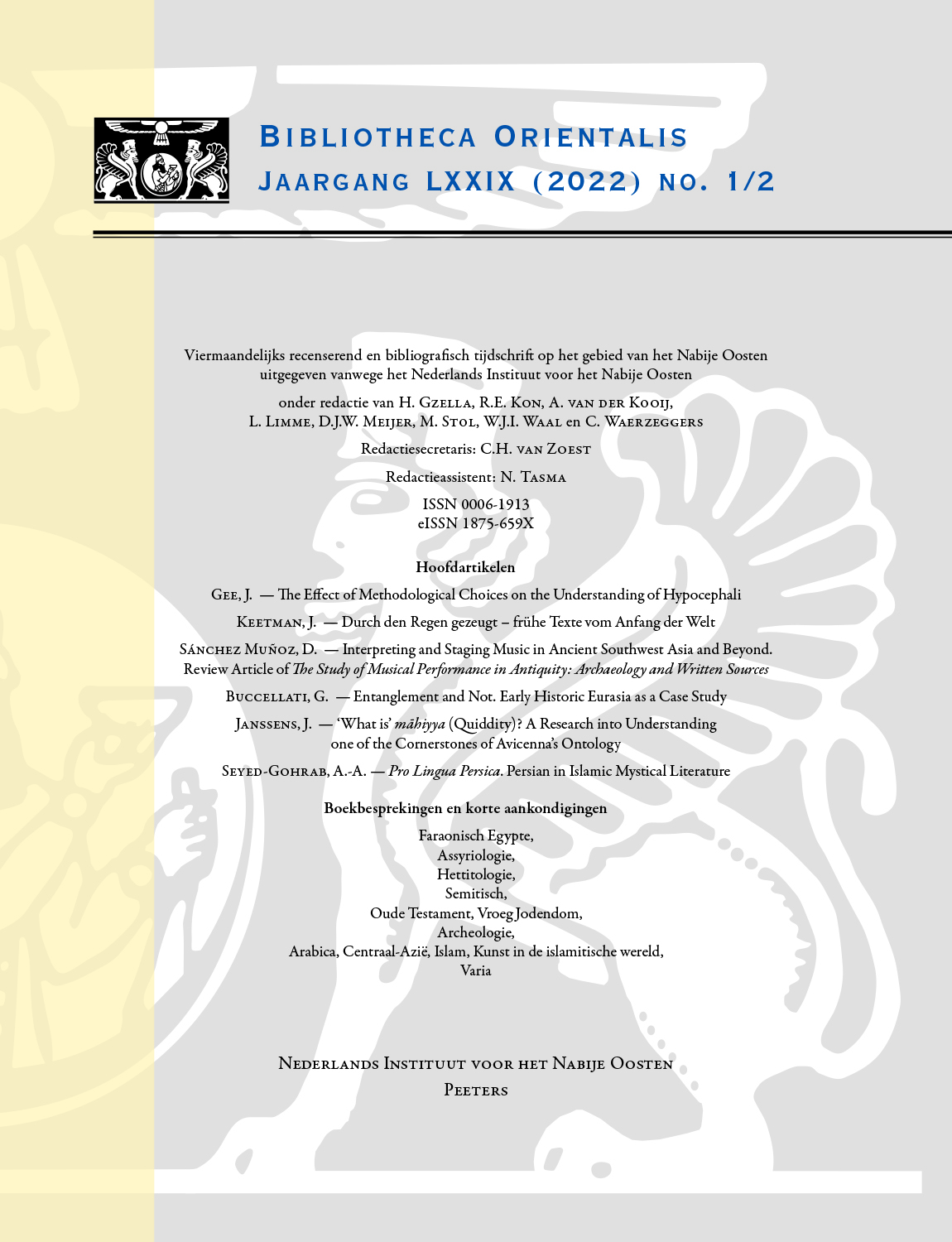 Document Details :

Title: Faraonisch Egypte
Author(s):
Journal: Bibliotheca Orientalis
Volume: 62 Issue: 5-6 Date: september-december 2005
Pages: 451-509
DOI: 10.2143/BIOR.62.5.2011735

Abstract :
MORENZ, L.D. — Bild-Buchstaben und symbolische Zeichen. Die Herausbildung der Schrift in der hohen Kultur Altägyptens. (Orbis Biblicus et Orientalis 205). Vandenhoeck & Ruprecht, Göttingen, 2004.

RICE, M., — Egypt's Making. The Origins of Ancient Egypt 5000 — 2000 BC. Routledge Curzon, Taylor & Francis Group, London & New York, 2003.

FAVRY, N. — Le Nomarque sous le règne de Sésostris Ier. (Collection assé/Présent. Série: Les Institutions dans l'Égypte Ancienne, no. 1). Publications de l'Université Sorbonne, Paris 2004

MUNRO, I. — Das Totenbuch des Pa-en-nesti-taui aus der Regierungszeit des Amenemope. Verlag Otto Harrassowitz, Wiesbaden, 2001.

VACHALA, B. — Die Relieffragmente aus der Mastaba des Ptahschepses in Abusir. (Abusir VIII). Czech Institute of Egyptology, Charles University, Praha, 2004.

ANDREU, G. (éd.) — Deir el-Médineh et la Vallée des Rois. La vie en Égypte au temps des pharaons du Nouvel Empire. Khéops, Paris, 2003.

JANSSEN, J.J., E. FROOD and M. GOECKE-BAUER — Woodcutters, Potters and Doorkeepers. Service Personnel of the Deir el-Medina Workmen. (Egyptologische Uitgaven, 17). Nederlands Instituut voor het Nabije Oosten, Leiden, 2003.

VOMBERG, P. — Das Erscheinungsfenster innerhalb der amarnazeitlichen Palastarchitektur. Herkunft – Entwicklung – Fortleben. (Philippika, Marburger altertumskundliche Abhandlungen 4). Verlag Otto Harrassowitz, Wiesbaden, 2004.

HILL, M. — Royal Bronze Statuary from Ancient Egypt. With Special Attention to the Kneeling Pose. (Egyptological memoirs 3). Brill Academic Publishers, Leiden, 2004.

MARTIN, G. Th. — Stelae from Egypt and Nubia in the Fitzwilliam Museum, Cambridge, Cambridge University Press, Cambridge, 2005.

AUBERT, Liliane, et Jacques FRANÇOIS. — Statuettes funéraires égyptiennes du département des Monnaies, Médailles et Antiques, Bibliothèque nationale de France, Paris, 2005.

MRSICH, T.Q. — Rechtsgeschichtliches zur Ackerverpachtung auf Tempelland nach Demotischem Formular. (Veröffentlichenungen der Kommission für Antike Rechtsgeschichte nr. 10). Verlag der Österreichischen Akademie der Wissenschaften, Wien, 2003.

SMITH, S.T. — Wretched Kush. Ethnic identities and boundaries in Egypt's Nubian Empire. Routledge Curzon, Taylor & Francis Group, London & New York, 2003.

BONNET, C. — Le temple principal de la ville de Kerma et son quartier religieux. Mission archéologique de l'Université de Genève à Kerma (Soudan). Éditions Errance, Paris 2004.

SHINNIE, P.L. and J.R. ANDERSON (Eds.) — The Capital of Kush 2. Meroë Excavations 1973-1984. (Meroitica - Schriften zur altsudanesischen Geschichte und Archäologie, Band 20). Verlag Otto Harrassowitz, Wiesbaden, 2004.

ÉGYPTE, AFRIQUE et ORIENT, n° 36 (La céramique égyptienne), n° 37 (Amenmemhat Ier et Sésostris Ier), Khéops, Paris, 2004-05.



Download article