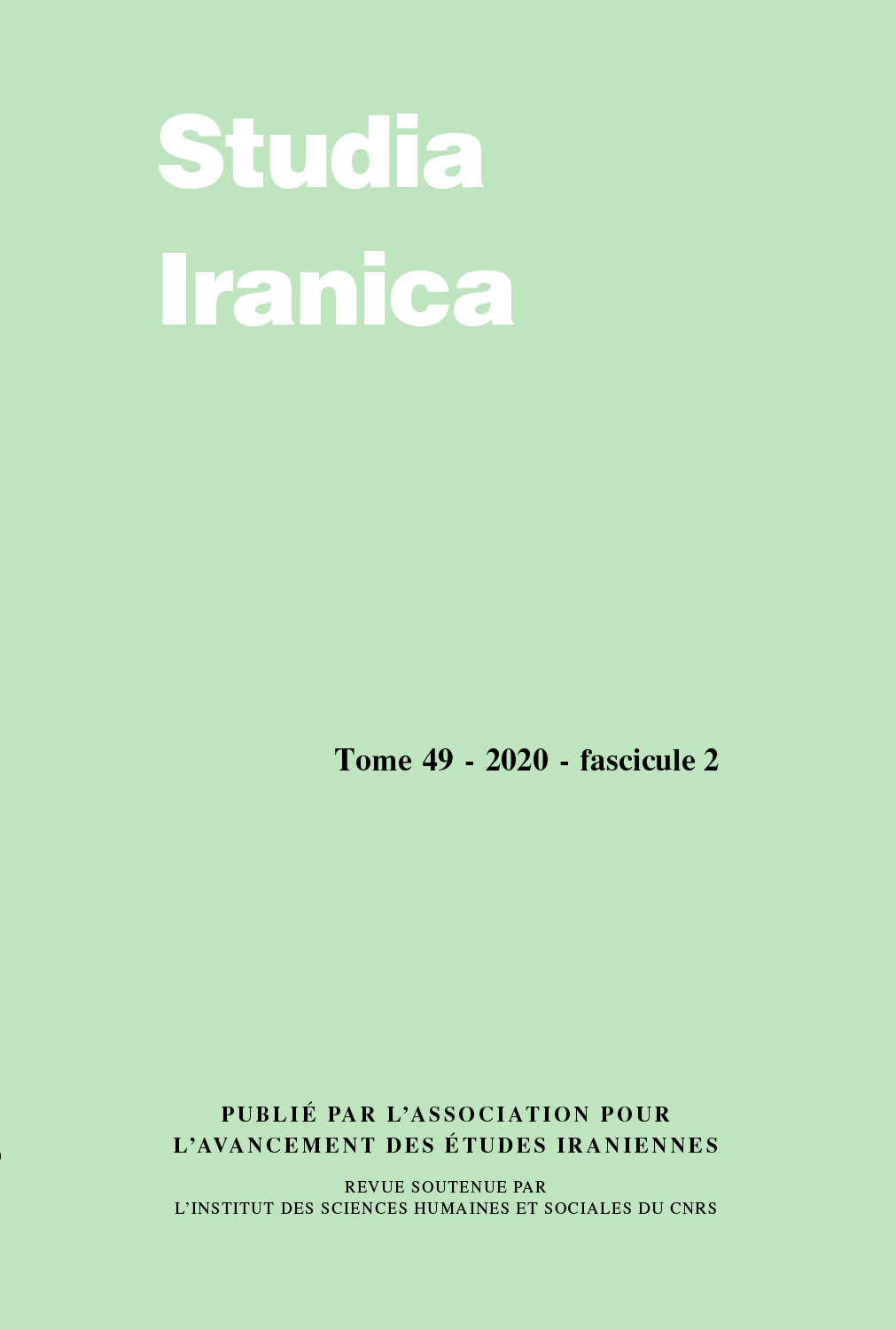 Document Details :

Title: Découverte d'un monument d'époque sassanide à Bandian, Dargaz (Nord Khorassan)
Subtitle: Fouilles 1994 et 1995
Author(s): RAHBAR, M.
Journal: Studia Iranica
Volume: 27 Issue: 2 Date: 1998
Pages: 213-250
DOI: 10.2143/SI.27.2.2003927

Abstract :
Découvert fortuitement en 1990, le site de Bandian, près de la frontière du Turkménistan (nord Khorassan) est fouillé depuis 1994 par une mission archéologique de l'Organisation du Patrimoine Culturel de l'Iran. Une salle principale de 10,25 x 8,60 m ouverte sur un côté et flanquée de salles sur les trois côtés présente un ensemble exceptionnel de panneaux muraux en stuc, dont la partie inférieure seule est conservée sur une hauteur de 0,70 à 0,80 m. Les thèmes sont variés: sur un mur, scènes de chasse et de combat, sans doute contre les Hephtalites; sur le mur opposé, scènes de cour et peut-être d'investiture. Dans une niche, dont le sol est surélevé, les trois murs portent des personnages tenant une baguette (barsom?) et un brûle-parfum (ou autel?), tandis qu'une figure féminine verse le contenu d'un vase. Dans cette partie, sans doute religieuse, quatre des cinq inscriptions en moyen-perse seraient en relation l'une avec l'autre selon une première lecture de R. Bashshash Kanzaq, qui par allieurs attribue le bâtiment à l'époque de Bahram Gur.


---

The archaeological site of Bandian which was accidentally discovered in 1990 has been excavated by an expedition from the Iranian Cultural Heritage Organisation since 1994. The building consists of a room (10.25 x 8.60 m) surrounded by series of smaller rooms on three sides. The walls of the rooms are decorated with stucco panels which are preserved up to 0.70-0.80 m. They show varied subjects: hunting and fighting scenes, perhaps against Hephtalits; on the opposite wall, court and maybe investiture scenes. In a corner, inside a large recess with a raised floor, the three walls bear representations of standing figures, some of them holding a stick (barsom?) in one hand and an incense burner or small altar in the other one; one of these figures depicts a woman pouring a liquid from a jug. In this recess, which had probably a religious function, four of the five Middle Persian inscriptions seem to be connected to the next one. According to R. Bashshash Kanzaq's first reading the building has to be dated from Bahram Gur's period in the 5th century AD.


Download article