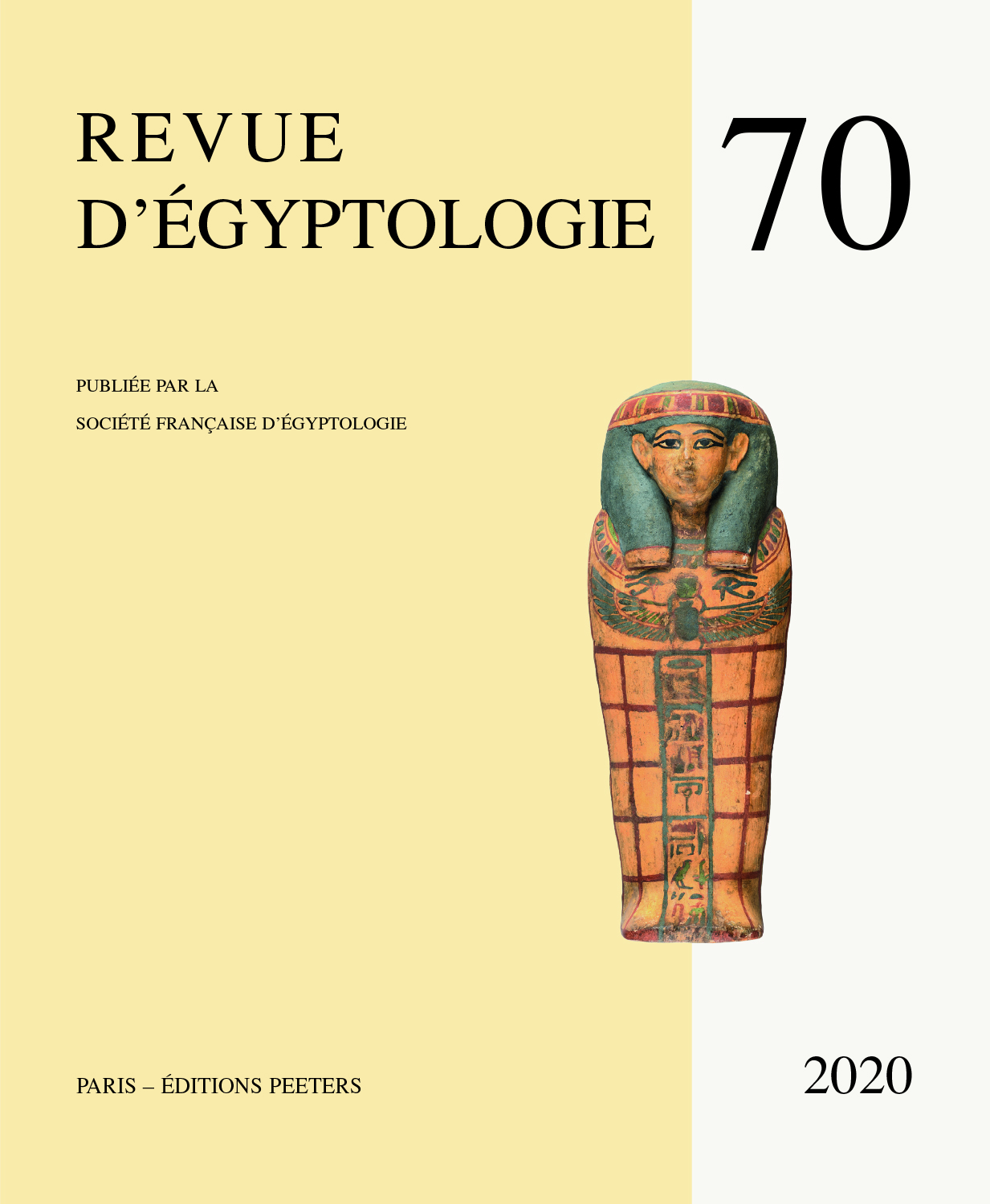 Document Details :

Title: L'avertissement d'Aménirdis Ière sur sa statue Caire JE 3420 (= CG 565)
Author(s): PERDU, O.
Journal: Revue d'Égyptologie
Volume: 47 Date: 1996
Pages: 43-66
DOI: 10.2143/RE.47.0.2003708

Abstract :
Les inscriptions de la fameuse statue de l'Adoratrice Aménirdis Ière découverte par A. Mariette à Karnak-Nord (Caire JE 3420) sont ici traduites et commentées pour la première fois. La plus intéressante est gravée sur l'appui dorsal: il s'agit non d'un appel, mais d'un avertissement qui s'apparente à ceux qui se multiplient sur les statues privées de temple aux époques tardives, notamment sous les XXVème et XXVIème dynasties. Pour inciter les passants à pourvoir aux besoins du monument, ce texte précise non seulement à celui qui le gratifierait d'offrandes ce qu'il gagnerait, mais indique aussi à celui qui le négligerait ce qu'il encourerait. Une attention particulière a été portée à sa disposition qui relève du principe de l'inversion vocative étudié par H.G. Fischer, ainsi qu'à ses particularités graphiques dont le nombre et la nature annoncent celles de l'époque saïte. Ces différentes enquêtes ont d'autre part permis de mettre en évidence l'importance et la diversité des emprunts faits ici aux textes les plus anciens, ceux des pyramides y compris.


---

The inscriptions of the well-known statue of the God's Wife Amenirdis I, discovered by A. Mariette at 'Karnak-Nord' (Cairo JE 3420), are here translated and commented upon for the first time. The most interesting text is engraved on the back pillar of the monument: it does not concern an appeal, but a 'warning', related to those in the increase on late private temple statues, notably during the XXVth and the XXVIth dynasties. In order to incite people to supply the needs of the monument, this text does not only specify to the one who shall grant it offerings what he shall derive from, but also shows the one who shall neglect it what he shall incur. Here has been stressed on the layout of the inscription, coming under the vocative reversal principle studied by H.G. Fischer, and its graphic peculiarities, the number and the nature of which are announcing the saïte ones. These various inquiries have also allowed to underline the importance and diversity of the 'literary borrowings' from older inscriptions, including the Pyramid Texts, that occur in this passage.


Download article