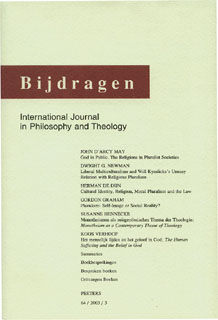 Document Details :

Title: De wereld en de ziel - The World and the Soul
Subtitle: Tropologie in Hugo van Sint-Victor's De Sacramentis - Tropology in Hugh of St.-Victor's De Sacramentis
Author(s): VAN'T SPIJKER, Ineke
Journal: Bijdragen
Volume: 58 Issue: 1 Date: 1997
Pages: 56-78
DOI: 10.2143/BIJ.58.1.2002405

Abstract :
Hugh of Saint-Victor's De Sacramentis is usually regarded as an early summa of theology. As such it has been regarded as not totally satisfying, lacking a clearness of its conceptual system when compared with the work of e.g. Peter the Lombard. What may make up for this lack of system and even confer coherence, be it on a different level, is Hugh's pedagogical view of creation and salvation history, as it shows most clearly in his tropological digressions. In his exposition of the history of salvation as it unfolds since the very beginning, Hugh incorporates the process by which the monk can not only follow the story of the macrocosm, but at the same time can read his self into being, allowing recognition of ambivalence from the start, and thus presenting a multi-demensional view of being human. In the same way as, on the cosmic level, any pre-lapsarian state of innocence exhibits a flaw from the very beginning, so the life of man is in a permanent state of ambiguity. This ambiguity is the framework for man as a moral being. Only within the possibility of choice can man be just or happy, without choice justus and beatus have no real significance. Matters are shown to be even more complicated when, in the story of Eve Hugh draws attention to her doubtful interpretation of God's command, as a factor which precedes her choice. In this way, De Sacramentis is not only a doctrina in our sense of the content of Christian dogma, but it offers the monk a point to which he can attach and conform his intentio: by bringing his intentio in form with the story about creation and fall and reparation, the reader can in fact effect the necessary reparatio, consisting of knowledge of truth and love of virtue.