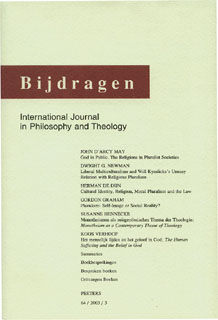 Document Details :

Title: Waarheid, religieuze pluriformiteit en tolerantie in het denken van Spinoza
Author(s): JUFFERMANS, Paul
Journal: Bijdragen
Volume: 63 Issue: 4 Date: 2002
Pages: 473-490
DOI: 10.2143/BIJ.63.4.823

Abstract :
In this article we discuss the relation between the concepts of truth, religious pluriformity and toleration in the thinking of Spinoza. We begin to discuss Spinoza's concept of truth. Hereby we distinguish between several intrinsic and extrinsic criteria of truth on an epistemological level. However, Spinoza's concept of truth is not only important on a cognitive level, but also with respect to human emotions and behaviour. In this domain of human imagination, emotions and behaviour there is necessarily a pluriformity of opinions, endaevours and efforts. Because of this pluriformity there is in every human community a certain tendency to conflicts and intoleration between individuals and groups. This is also the case with regard to religious pluriformity, for the phenomenon of religion is considered by Spinoza as a specific form of human imagination, where a lot of different emotions and practices are involved, which can generate all sorts of interhuman conflicts. Intoleration in a situation of religious pluriformity appears when one human individual or group considers him(her)self as superior to another on religious grounds. However, according to Spinoza the significance of religion for the individual and the community is not about the question of truth, but about that of piety, i.e. a moral practice of justice and charity. Therefore, no religion can consider herself superior to another on the basis of truth. Only philosophy and science deals with the truth in an epistemological sense.