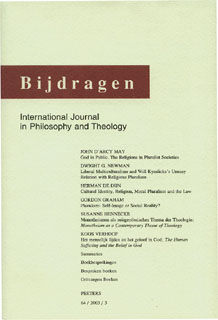 Document Details :

Title: Het eigene en het vreemde
Subtitle: Twee vormen van tolerantie
Author(s): JONKERS, Peter
Journal: Bijdragen
Volume: 63 Issue: 4 Date: 2002
Pages: 446-472
DOI: 10.2143/BIJ.63.4.822

Abstract :
The leading question of this article is whether an examination of the complex relations between individuality and strangeness can help us to understand the essence of tolerance, viz. bearing the unbearable. The first section concludes, from a historical survey of the opposition between freedom of religion and tolerance, that the former relates to a neutral kind of tolerance, whereas the idea of tolerance in the strict sense presupposes a person, who is committed to the truth of his faith. This leads to the idea of a committed kind of tolerance. Because in contemporary society, man is aware that this committed tolerance runs the risk of deteriorating into a militant intolerance, he prefers a neutral kind of tolerance. A critical analysis the kind of person, who adopts this attitude of neutral tolerance, shows a closed 'self', who wants to be left alone with his own convictions. The philosophy of Rorty, which I discuss in the third section, presents an excellent illustration of this idea of the self. It is shown, that this postmodern concept of the self is untenable, since nobody finally wants to be left alone with his own convictions, but necessarily strives for their social recognition. Thus, a completely neutral kind of tolerance ignores the fact that people always are committed to their own convictions, and dependent on recognition by others. As I show in the forth section, Charles Taylor develops another way to solve the problem of tolerance, viz. a dialogue between diverging ideas of the self, leading to the recognition of specific ways of life. However, this way of dealing with the problem of tolerance underestimates the importance of the incarnated character of our convictions, and overrates our capacity to accept and integrate patterns of life that are repugnant to us. In the last section, I show through a critical analysis of Kristeva's essay The stranger within us what committed tolerance means. It means not yielding to our tendency to consider and treat the stranger as someone diabolical, but to recognize the fact that what frightens us in him, is often the strangeness within ourselves, with which we haven't come to terms.