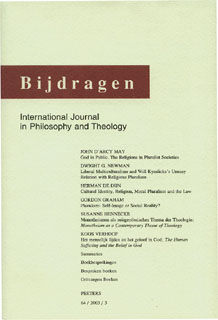 Document Details :

Title: Genezen als goed doen
Subtitle: Halachische logica in Mt 12,9-14
Author(s): OTTENHEIJM, Eric
Journal: Bijdragen
Volume: 63 Issue: 3 Date: 2002
Pages: 335-365
DOI: 10.2143/BIJ.63.3.814

Abstract :
In Matthew 12,9-14, about the dispute of the man with the withered hand, Jesus is asked whether it is allowed to heal on the Sabbath. The logical relation between this question and Jesus' answer to the effect that it is allowed to 'do well' on the sabbath days, puzzles scholars. Recent views that Jesus considers the observance of the Sabbath subservient to the principle of love or that he gives full priority to love are not satisfactory, given Matthew's deliberate use of terminology reminiscent of Rabbinic halakha and his positive references to the Sabbath. The present study defends the hypothesis that, following Matthew, healing is an application of the halakhic concept of good deeds. Textual elements in Matthew's account suggest that the healing of the hand prevents acute poverty. Both in Matthew and in Rabbinic literature, good deeds are an important concept and in both traditions Hosea 6,6 serves as the biblical foundation. The relation of good deeds to other positive precepts is a topic in Rabbinic halakha. Important in this respect is the dispute concerning the status of specific deeds of loving kindness on the Sabbath between the first-century Pharisee schools of Hillel and Shammai. Matthew shows affinity to the Hillelite position that defends the ongoing obligation to provide for the poor and to foster human well-being on the Sabbath. The explicit mention of hostility in this dispute is part of the Matthean narrative, although certain tensions between Jesus and Pharisee teachers concerning particular topics of the law may well have been authentic. These tensions are, however, part of the culture of law disputes in first century Judaism.