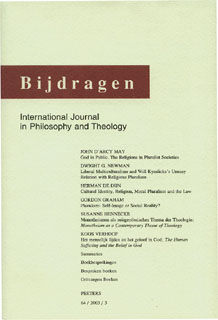 Document Details :

Title: Mystagogie als inwijding in geloof en gemeenschap
Author(s): VAN CAMPEN, Annemiek
Journal: Bijdragen
Volume: 63 Issue: 3 Date: 2002
Pages: 281-310
DOI: 10.2143/BIJ.63.3.812

Abstract :
Since Karl Rahner, mystagogia has been considered one of the Christian pastoral practices which can approach the need felt for experimental faith. Practical theologians who have indulged in the new mystagogia have placed its foundation in the mystagogical practices of third and fourth century church fathers. It seems as though the authority of the church fathers is used in defense of the legitimacy of mystagogia in our time. In this article, the patristic foundation of the new mystagogia is studied. In this way, the context, contents and methods of current mystagogia are compared to the practices of the church fathers. It appears that Christian mystagogia is understood as a form of initiation into personal faith and the Christian community. In this, the social context plays a part. The initiation is also connected to a process of conversion, where the patristic mystagogia is but a phase, while the new mystagogia can be seen as a process in its own right. In contents and method, mystagogia emphasizes theology, rites and catechesis. The elaboration of these items occurs differently with the church fathers than with modern theologians. These differences between patristic mystagogia and the current time conjure up questions concerning modern (mystagogical) pastorate. These questions will lead to a further analysis of current mystagogia.