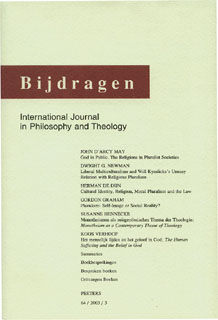 Document Details :

Title: Luther en Bernardus van Clairvaux
Subtitle: Tussen mystiek en scholastiek
Author(s): BELL, Theo M.M.A.C.
Journal: Bijdragen
Volume: 63 Issue: 3 Date: 2002
Pages: 253-280
DOI: 10.2143/BIJ.63.3.811

Abstract :
In this article the Reformer Martin Luther is to be situated against the backdrop of his medieval theological context – considering especially Bernard of Clairvaux. It is well-known that he held in great esteem Bernard and the theology he represented. First of all, Luther's relationship to Bernard is to be investigated by way of a historiographic review of the research that was done in the past 150 years. How did one consider Luther's attitude toward Bernard, and how did Luther research specifically value this attitude? In this research, denominational positions appear to have played a important role. Secondly, the attempt is made here to sketch Bernard's place in Luther's own tradition. Next to the medieval scholastic theology, there were diverse other influences that became important for the young Luther. Bernard's specific place within the complexity of medieval traditions is to be determined. This is being explained by presenting seven significant texts mainly from Luther's works, which are added to this article. Finally, the attempt is made to determine more closely Bernard's place in Luther's theology between Scholasticism and Mysticism. If one wants to do justice to Bernard in Luther's works, one must take into consideration the way in which Luther has perceived him, namely as a theologian of the Scriptures, a theologian of experience and a preacher of Christ par excellence along the lines of monastic theology.