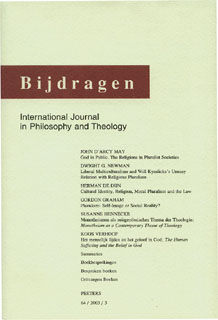 Document Details :

Title: Le christianisme a blessé la vengeance, mais ne l'a pas détruite
Subtitle: Le ressentiment du christianisme selon René Girard
Author(s): VANHEESWIJCK, Guido
Journal: Bijdragen
Volume: 62 Issue: 2 Date: 2001
Pages: 154-170
DOI: 10.2143/BIJ.62.2.770

Abstract :
In On the Genealogy of Morality Nietzsche exposes christianity as the product of the slave morality and its resentment. Nietzsche's exposure provoked different reactions. In Das Ressentiment im Aufbau der Moralen from 1913 Max Scheler shows, in contrast to Nietzsche, that the quintessence of christian ethics does not arise from resentment. More interesting than Scheler's rebuttal of Nietzsche is the reaction from the French-American thinker René Girard (°1923). Girard does not only criticize Nietzsche's analysis, but goes as well into the both paradoxal and crucial point that resentment is, on the one hand, intertwined with christian culture and, on the other, is at odds with christian inspiration.
I would like to present Girard's rebuttal of Nietzsche in two steps. First, I outline the background of Girard's view on the relation between myth and christianity, taking his interpretation of the function of the scapegoat mechanism in premodern mythical religions as a starting-point. According to Girard, christianity functions as the exposure of premodern mythical religions, rejecting as it does the foundational role of the scapegoat mechanism as a means of canalising violence, inherent to mimetic desire. It is not christianity's intent to canalize violence by means of limited violence (the scapegoat's elimination), but precisely to expose violence. By making obvious that christianity did not succeed in doing this – by giving a philosophical analysis of the role of christianity in Western culture Girard shows that christianity has succeeded only in wounding violence, not in eliminating it and, as a consequence, has cleared the way for resentment – he is able to demonstrate that resentment is the child of christianity, not its father.
Subsequently I outline Girard's view on the role of mimetic desire in modern culture. Instead of canalizing mimetic desire by means of the scapegoat mechanism, modern Western culture unchains mimetic desire by means of the free market principle of competition. External mediation, which is typical of premodern mythical-religious cultures, is now being replaced by internal mediation, which is guided by economic principles. As such, resentment is going to determine modern culture from within. Hence, christianity will, as an integral part of modern culture, be likely to fall a prey to this resentment.
Finally, I conclude by going into the challenge christianity, squeezed as it were between religious claims on the one hand and modern presuppositions on the other, has to cope with: how can it overcome resentment, of which it undoubtedly bears the fruits and which it simultaneously radically rejects?