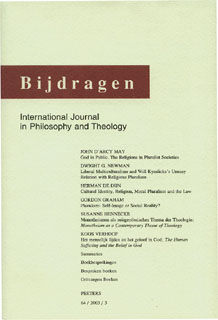 Document Details :

Title: Het schriftargument in Ordinatio sacerdotalis
Author(s): BIERINGER, Reimund
Journal: Bijdragen
Volume: 62 Issue: 2 Date: 2001
Pages: 129-142
DOI: 10.2143/BIJ.62.2.768

Abstract :
The 1994 Letter Ordinatio sacerdotalis of Pope John Paul II focuses mainly on the argument from Scripture. It states that women cannot be ordained priests in the Roman Catholic Church because Jesus consciously and in harmony with God's will only chose men to be his apostles. In this article we confront the arguments and presuppositions of this way of reason with the results of historical-critical exegesis. We arrive at the conclusion that the letter's identification of the apostles with the Twelve takes as historical the theology of apostleship found in Luke and neglects Paul's views on apostleship as well as thee evidence of women's involvement in ministry in the Pauline churches.
In a second part this study pursues the question why, according to Ordinatio sacerdotalis, the Twelve had to be men. While the letter does not take any explicit stand on this issue, we come to the conclusion that it implicitly presupposes a theological difference between men and women.