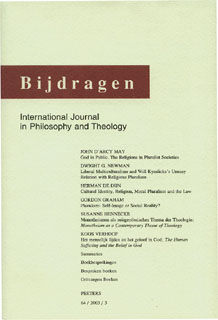 Document Details :

Title: Virtue withour Providence?
Subtitle: The Ethics of Hume's Religious Scepticism
Author(s): LEMMENS, Willem
Journal: Bijdragen
Volume: 61 Issue: 3 Date: 2000
Pages: 285-307
DOI: 10.2143/BIJ.61.3.565644

Abstract :
Hume's sceptical attack on the rational theology of his days is closely interwoven with his attempt to develop a wholly naturalistic account of morality. Hume thus explores the possibility to develop an ethics devoid of any reliance on traditional faith or any type of theistic-providential metaphysics. In this article the consequences of this position are examincd. First, two major versions of a theistic-providential underpinning of morality in the tradition of 18th-century British moral philosophy, notably those from Samuel Clarke and Francis Hutcheson, are examined. In the following, a reconstruction is made of Hume's sceptical attack on the rational theology of his days (with special attention for his dismissal of the natural religion paradigm). In a third move, the consequences of Hume' s religious scepticism for the positive articulation of his ethical theory are pointed out. In the conclusion it becomes apparent that Hume's religious scepticism remains strongly influenced by the classical idea of an intrinsic relation between contemplation and moral wisdom: but the contemplative wisdom of Hume's 'true religion' is of a radical anti-teleological kind and implies indeed a breach with the Christian inspired moral metaphysics of his days.