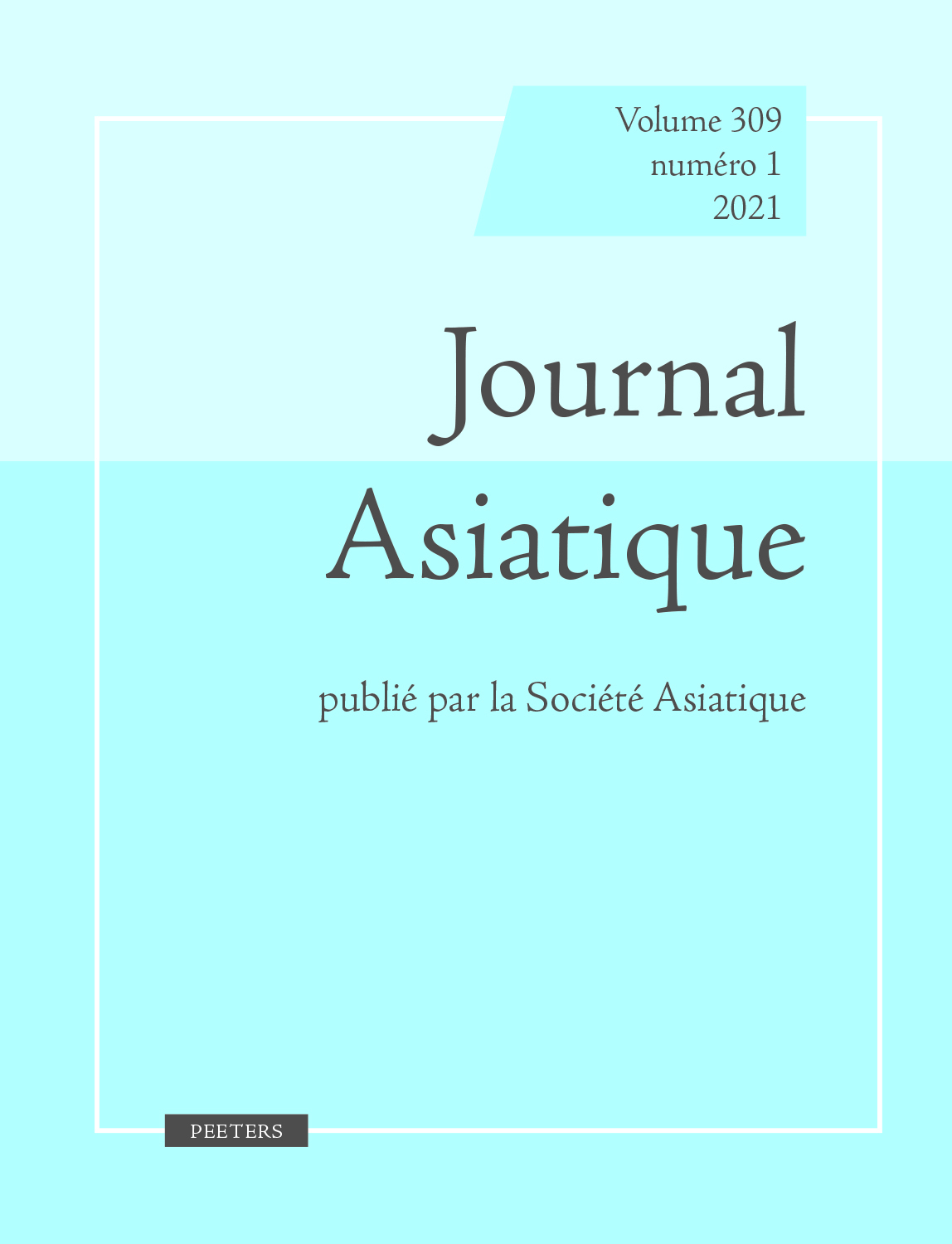 Document Details :

Title: Les métamorphoses de V̥rthragna
Author(s): PIRART, É.
Journal: Journal Asiatique
Volume: 287 Issue: 2 Date: 1999
Pages: 465-522
DOI: 10.2143/JA.287.2.556479

Abstract :
Par un examen approfondi des sections du Varahrān Yašt (Yt 14) qui traitent des «métamorphoses» du dieu Vr̥thragna et par la confrontation avec les données védiques, il est montré que la possibilité de comparer V̥thragna avec le dieu védique Indra est fort sujette à caution et que tout rapprochement de la liste avestique des «métamorphoses» avec celle des avatara de Viṣṇu doit être sérieusement tempéré. Ce sont le rituel, à travers certaines spéculations brāhmaṇiques concernant les victimes sacrificielles, et le folklore qui ont permis non seulement l'assimilation de plusieurs avatāra avec Viṣṇu , mais aussi leur mise en liste. 1. Introduction. 2. Les métamorphoses. 3. Le vent. 4. Le taureau. 5. L'étalon. 6. Le chameau. 7. Le sanglier. 8. Le seigneur de quinze ans. 9. Le faucon. 10. Le bélier. 11. Le bouc. 12. Le riche héros. 13. Le poisson Kara. 14. Le vautour. 15. La plume de faucon. 16. La rivière en crue. 17. Saina Mr̥ga. 18. Des animaux aquatiques mal identifiés. 19. Volet indien et conclusions.

By an in depth examination of sections of the Varahrān Yašt (Yt 14) dealing with the «metamorphoses» of the god Vr̥thragna and by comparison with Vedic data, it is shown that a comparison between Vr̥thragna to the Vedic god Indra must be made only with caution. Any parallel between the Avestan list of metamorphoses with that of Avataras of Viṣṇu must be considered with reserve as well. It is ritual, through certain brahmanic speculations on sacrificial victims and folklore that have allowed for not only the assimilation of several Avatāras with Viṣṇu , but the elaboration in list form as well. 1. Introduction. 2. Metamorphoses. 3. Wind. 4. The bull. 5. The stallion. The camel. 7. The wild boar. 8. The 15-year-old lord. 9. The falcon. 10. The ram. 11. The billy-goat. 12. The rich hero. 13. The fish Kara. 14. The vulture. 15. The falcon's feather. 16. The swelling river. 17. Saina Mr̥ga. 18. Poorly identified aquatic animals. 19. Indian data and conclusions.


Download article