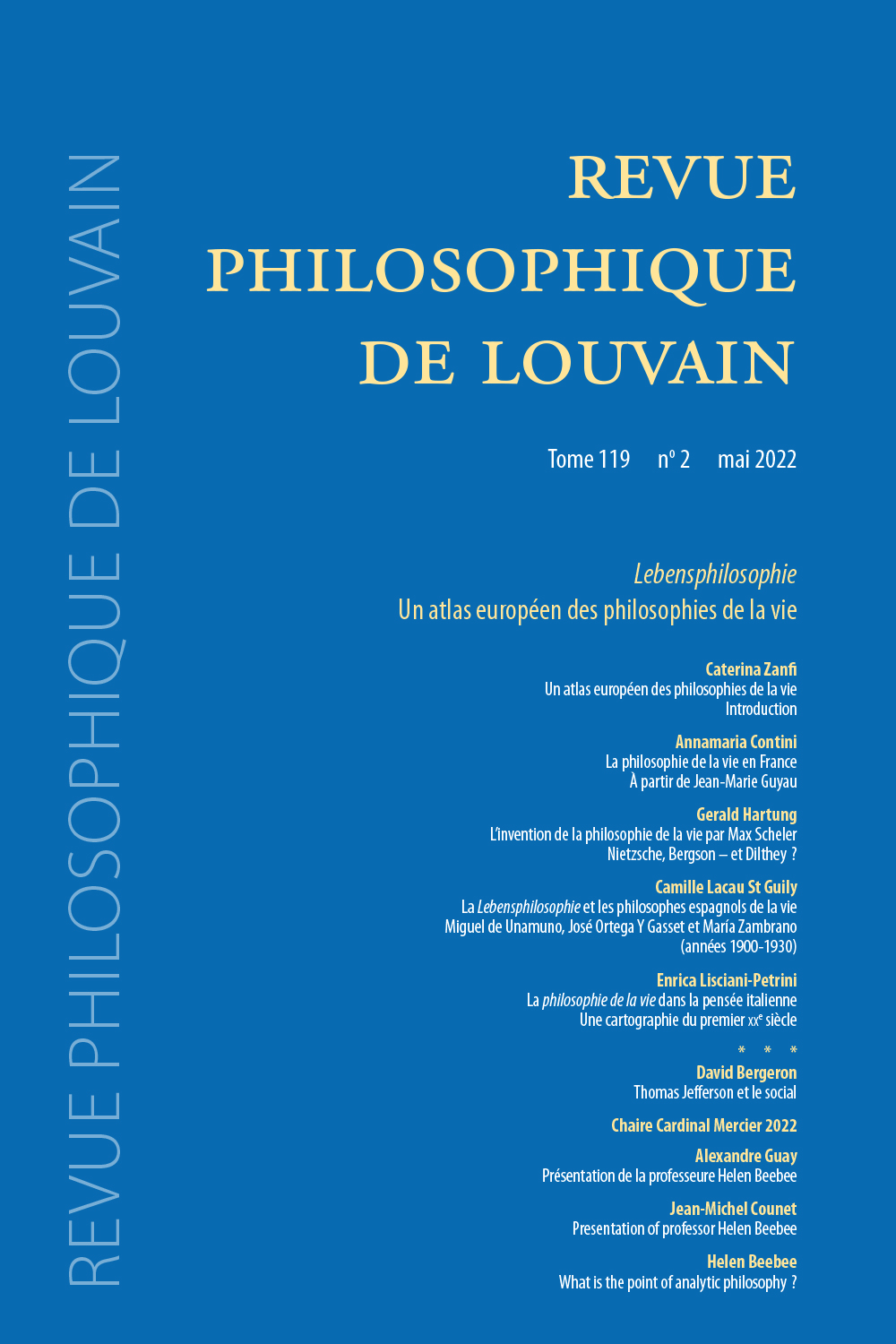 Document Details :

Title: D'un style de la pensée
Subtitle: Le statut de la figure
Author(s): LABARRIÈRE, Pierre-Jean
Journal: Revue Philosophique de Louvain
Volume: 92 Issue: 1 Date: Février 1994
Pages: 15-31
DOI: 10.2143/RPL.92.1.556241

Abstract :
Dans cet article reproduisant la première d'une série de douze leçons, l'auteur énonce son projet qu'il place sous le triple signe de Dante le poète, Maître Eckhart le mystique, et de Hegel le philosophe. Il s'agit de voir comment le geste logique universel, sans lieu ni moment assignables, commande l'émergence de figures particulières de sens dans l'espace et dans le temps. Le style de la pensée réside dans cette puissance figurative qu'il revient à une Poïétique de mettre en évidence. L'auteur situe son projet dans le prolongement de trois de ses ouvrages précédents, L'Unité plurielle, Le Discours de l'Autre et L'Utopie logique. Il signale que sa réflexion lui permet d'aborder, sur de nouveaux frais, la question du rapport de l'intérieur et de l'extérieur et celle de la relation de l'un et du multiple.

In this article which reproduces the first of a series of twelve lectures, the authors sets out his project, which he places under the threefold sign of Dante the poet, Meister Eckhart the mystic and Hegel the philosopher. The aim is to see how universal fundamental logic, which can be assigned neither place nor time, commands the emergence of particular figures of meaning in time and space. the style of thought resies in that figurative power which it is the task of a Poietics to bring out. The author situates his project as an extension of three of his previous works, L'Unité plurielle, Le Discours de l'Autre and L'Utopie logique. He points out that his thought makes it possible for him to approach anew the question of the relationship of the interior to the exterior and that of the one to the multiple.


Download article