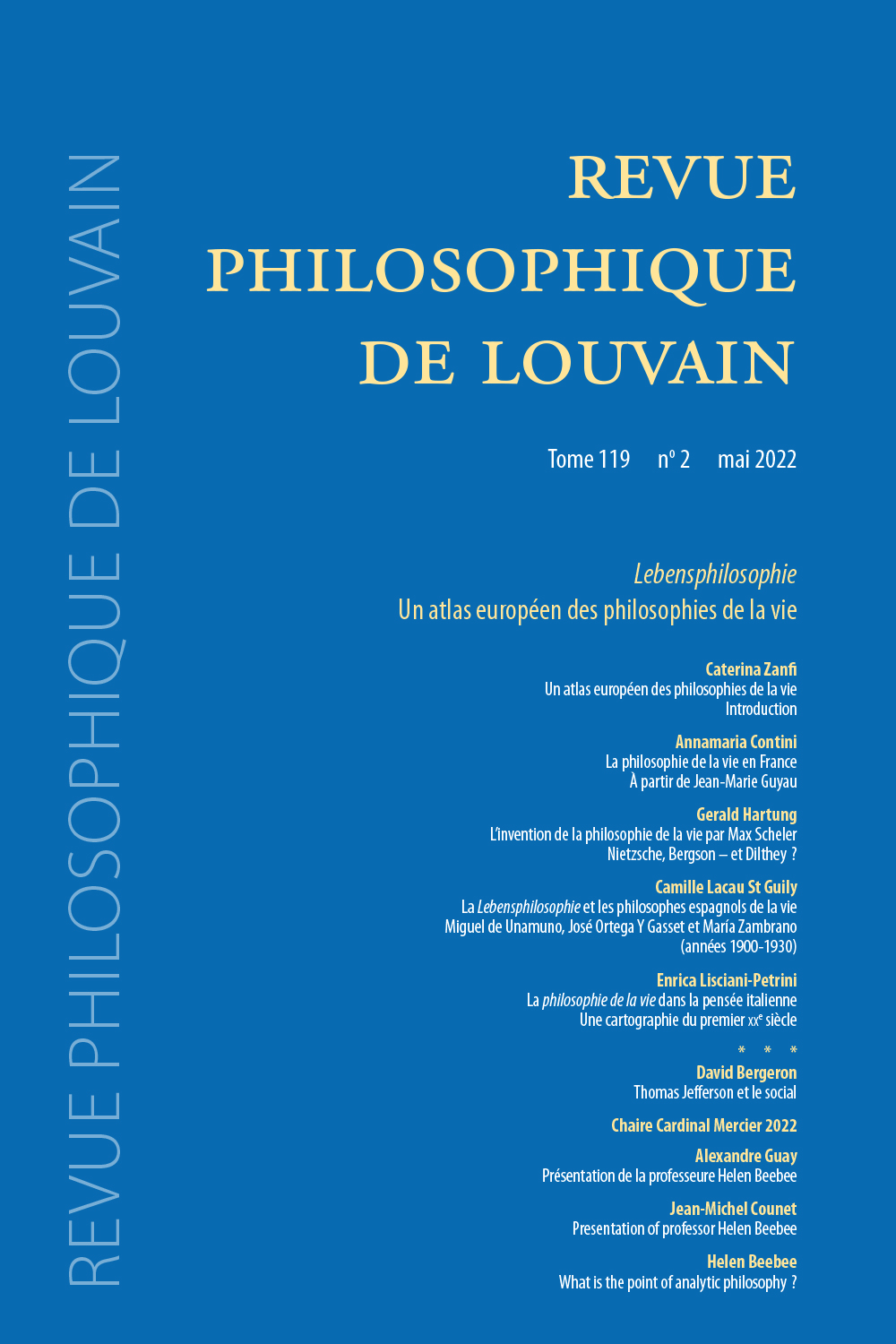 Document Details :

Title: Heidegger et la poésie
Subtitle: De 'Sein et Zeit' au premier cours ur Hölderlin
Author(s): VANDEVELDE, Pol
Journal: Revue Philosophique de Louvain
Volume: 90 Issue: 1 Date: Février 1992
Pages: 5-31
DOI: 10.2143/RPL.90.1.556161

Abstract :
Dans Sein und Zeit (1927), la poésie est mentionnée en passant comme un mode de 'discours' que l'interprétation phénoménologique peut utiliser comme témoignage. Orn dès 1934, dans le premier cours sur Hölderlin, la poésie est présentée comme la 'langue originaire' à l'écoute de laquelle toute pensée doit se mettre. Une double question se posait: d'une part comment comprendre ce changement radical de perspective? Et d'autre part, l'éminence dont Heidegger gratifie la poésie en 1934 ne souffre-t-elle plus des carences intrinsèques qu'il y décelait 1927?
En fait, le rapport de la poésie à la langue en 1934 reste englué dans la même duplicité que le rapport entre discours et langue en 1927. La langue reste aussi 'secondaire' qu'auparavant, au point que la poésie ne fait pas œuvre: elle n'est pas que l'écho affaibli d'un tissu plus subtil, de mots 'chargés d'orage', selon la formule de Hölderlin. La poésie n'offre donc aucune résistance à la pensée. Celle-ci peut ainsi se légitimer de ce manque et dire plus clairement (conceptuellement) ce que la poésie ne fait que suggérer.

In Sein und Zeit (1927) Heidegger mentions poetry only casually as a kind of 'discourse' to be called upon by phenomenological interpretation as a relevant example. In 1934, however, in his first lecture on Hölderlin, he presents poetry as a 'proto-language' which every thinking should listen to and obey. This discrepancy gives rise to two questions: 1) How is this radical change in perspective to be understood? 2) Does the prominent part assigned to poetry in 1934 no longer suffer from the same weaknesses it displayed in 1927?
Actually, the relationship between poetry and language in 1934 retains the same ambiguity as that between discourse and language in 1927. Language remains as 'secondary' as before; so that poetry is not really a worrk that stands by itself; it is only a faint echo of a more subtle texture, of words 'full of thunder', as Hölderlin puts it. Thus, poetry in itself offers no real partnership to thinking. Thinking uses this weakness as legitimizing speaking instead of poetry, in saying in a clearer way (conceptually) what poetry only suggests.


Download article