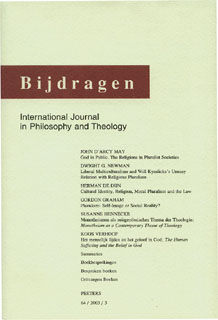 Document Details :

Title: Over de onbescheidenheid en kwetsbaarheid van culturen / The Immodesty and Vulnerability of Cultures
Subtitle: Het multiculturalisme in de revisie bij haar genealogen / Multiculturalism reconsidered by his Genealogists
Author(s): DE WIT, Theo W.A.
Journal: Bijdragen
Volume: 65 Issue: 4 Date: 2004
Pages: 461-490
DOI: 10.2143/BIJ.65.4.542084

Abstract :
In the past few years in the Netherlands and other multi-ethnic democratic states we hear sharp political and intellectual criticism on the philosophical idea of a 'multicultural society'. In this article, the author questions the criticism of several liberal and conservative political philosophers, who in their approach give attention to the genealogy of multiculturalism. While a liberal as Brian Barry sees multiculturalism as a regression, the conservative Roger Scruton on the other hand considers this political and intellectual phenomenon as a bridge too far, a symptom of the disintegration of the modern nation. The author argues that these criticisms are forcing us to abandon a form of multiculturalism that considers 'toleration' as the highest principle. The 'toleration-multiculturalist' gets entangled in inconsistencies and moral paradoxes, as soon as he wants to determine his position towards intolerant and immodest variations of the Volksgeist, the cultural homogeneity and identity.
The underlying problem in the discussion among liberals, conservatives and multiculturalists is the ontological vulnerability of cultures. This vulnerability has to do with the fact that cultures, traditions and identities are dependant on the constructive work of autonomous interpreters. Therefore a permanent dialogue with the past is necessary. While nationalists and multiculturalists are inclined to eliminate this vulnerability by fixating and immunizing the cultural and national identity, the liberals are neutralizing the cultural loyalties of people through the privatisation of identities. In contrast to these positions the author pleads for a form of democracy in which the rituals of democracy mediate the permanent dissensus about the meaning of nevertheless being a national community.