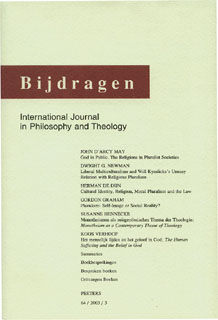 Document Details :

Title: L'avenir de la Bible / The Future of the Bible
Subtitle: Ses risques, ses défis / Risks and Challenges in Teaching the Bible
Author(s): BIERINGER, Reimund , POLLEFEYT, Didier
Journal: Bijdragen
Volume: 65 Issue: 4 Date: 2004
Pages: 393-416
DOI: 10.2143/BIJ.65.4.542081

Abstract :
This study takes as its starting point the problems religious educators experience in communicating the message of the Bible. After analysing the causes of the problems, an alternative approach is presented which is designed to help assure a future for the Bible. The first cause which is discussed is biblical fundamentalism. We present the literal meaning of the Bible as a developmental stage of every human person. Problems arise when people refuse to grow beyond this stage or when, not having had the opportunity of learning about alternative approaches, they reject the Bible together with the fundamentalist approach. The second cause of the problems in teaching the Bible today is called 'scientific' fundamentalism. With this we refer to a specific way of using the historical-critical method which accepts nothing but its own methodology as a hermeneutic approach and ends up with a fundamentalist reading of its own research results. The third cause of the problem is the widespread moralising use of the biblical message. This approach tends to reduce the biblical message to its ethical dimension and to reduce the ethical dimension to moralising. In a fourth section, we present the opportunities and dangers presented by the digitalisation of the biblical text. While we acknowledge the inherent dangers and recognise the problem of the first three mentioned problems all find their way into the digital presentation of the Bible, we nevertheless recognise the great opportunities which the new media provide in making the approach to the Bible more dynamic and interactive.
In the second part, we present an alternative model. We propose an understanding of the Bible and its genesis as witness to the ongoing dialogue between God and human persons in community. With the writing of the last word of the Bible and the closing of the canon, revelation has not come to its end. Reading the Bible does not excuse us from having to enter into a personal relationship with God. The Bible itself leaves much room for creative interpretation and invites critical dialogue. As a criterion for the reading of the Bible, we propose the question whether a reading opens up a future for all or whether it helps some gain advantages at the cost of others. We are convinced that the Bible will have a future, if its reading and interpretation enables people to participate in building the future that is according to God's design.