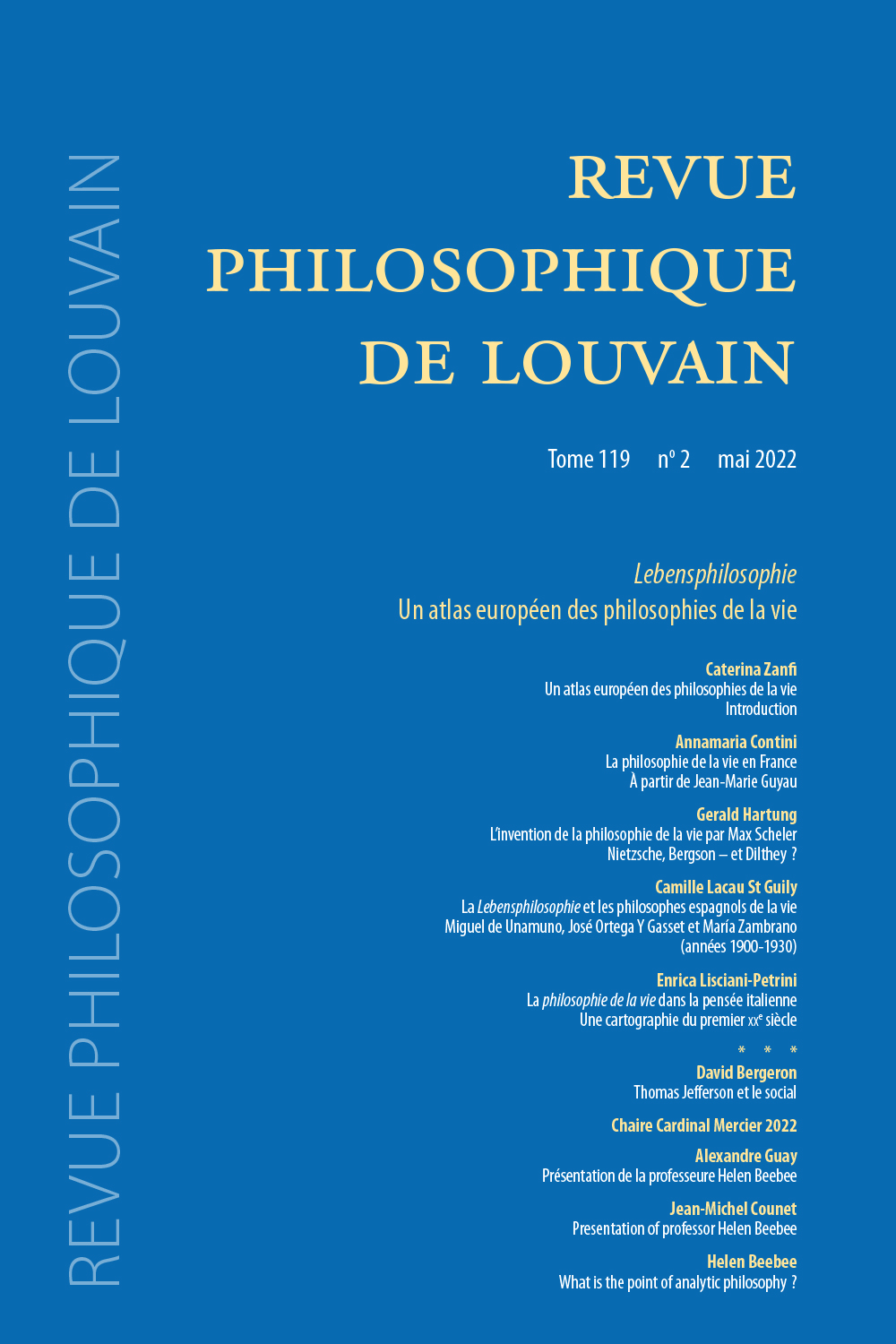 Document Details :

Title: Révolution scientifique et problématique de l'être vivant
Author(s): DUCHESNEAU, François
Journal: Revue Philosophique de Louvain
Volume: 94 Issue: 4 Date: novembre 1996
Pages: 568-598
DOI: 10.2143/RPL.94.4.541784

Abstract :
Les principales évaluations de la Révolution scientifique laissent entendre que la problématique du vivant n'occupait qu'une place marginale dans la nouvelle science mécaniste de la nature qui se constituait au XVIIesiècle. Or les modèles du vivant occupent une position centrale chez les philosophes modernes, qui mettent volontiers en cause la spécificité des organismes dans la nature et s'interrogent sur les moyens de soumettre les phénomènes vitaux à l'analyse. Les premiers modèles qui surgissent dans le cadre de la science des modernes, s'inspirent d'ailleurs de traditions néo-platoniciennes ou néo-aristotéliciennes, alors même que leur auteurs s'écartent de l'orthodoxie galéniste. L'auteur considère ici les concepts théoriques auxquels Harvey et Van Helmont entendaient respectivement subordonner les analyses de type empirique. Il ne saurait s'agir de récuser dans le premier cas l'importance de la démonstration dite expérimentale, de contester dans le second le caractère hautement spéculatif de l'ontologie des principes vitaux psychomorphiques: l'objectif de l'auteur est plutôt de redessiner le profil épistémologique des modèles à l'œuvre dans ces constructions dont les protagonistes du mécanisme vital devront par la suite se démarquer.

Authoritative assessments of the Scientific Revolution suggest that the question of the living was not central to the new mechanistic natural philosophy which developed in the Seventeenth Century. But fostering adequate models of the living seemed of foremost importance for modern philosophers who questioned the specificity of organisms in nature and investigated the means of analyzing vital phenomena. The first models that framed up within modern science took their inspiration in neo-Platonist or neo-Aristotelian traditions, while they parted with the Galenist orthodoxy. The author examines herewith the theoretical conceptions Harvey and Van Helmont would subordinate empirical analyses to. In Harvey's case, there is no question of denying the importance of so-called experimental arguments, nor, in Van Helmont's, of challenging the speculative nature of his ontology of psychomorphic vital principles; the aim of the author is rather that of sketching the epistemological profile of those models the protagonists of vital mechanism will have to distance themselves from.


Download article