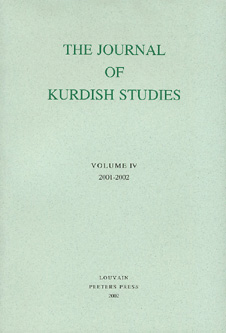 Document Details :

Title: Rozhîkî Revolt, 1065/1655
Author(s): REID, James J.
Journal: Journal of Kurdish Studies
Volume: 3 Date: 1998-2000
Pages: 13-40
DOI: 10.2143/JKS.3.0.519239

Abstract :
Seventeenth-century Kurdistan receives very little attention in the modern histories of the Ottoman Empire. The standard history of the Ottoman Empire by Ismail Hakkï Uzunçarshïlï has devoted much space to the contemporary conquest of Crete that ended in 1966. He also discussed other rebellions, but ignored Kurdistan, and the Rozhiki revolt in particular. Uzunçarshïlï also noticed sime of teh events in Melek Pasha's life, including the fact that he became the governor of the Lake Van District. His unwillingness to consider such events in Kurdistan, or kurdish society at large represents a part of Turkish official policy that denies a heritage to Kurdistan. Stanford Shaw has also ignored the Kurdish insurrection of 1065/1655, even though he, like Uzunçarshïlï devoted much space to the Jelâlî and soldier revolts of the period. Desim Darkot's article in Islam Ansiklopedisi gives a few inocuous lines to Evlîya Chelebî's description of Bidlîs' physical environment and population, but brushes the revolt aside with scarcely a mention. ANyone attempting to study Kurdish society, culture, or teh events of any historical period will encounter significant difficulties. Nonetheless, source material does exist, and the work of scholars such as Robert Dankoff has contributed to opening the way for the study of seventeenth-century Kurdish society.


Download article