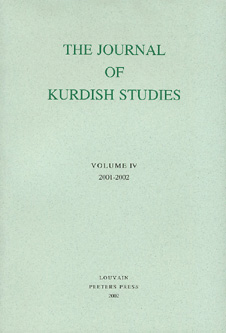 Document Details :

Title: The Italian Contribution to Kurdology (13th to 20th Century)
Author(s): GALETTI, Mirella
Journal: Journal of Kurdish Studies
Volume: 1 Date: 1995
Pages: 97-112
DOI: 10.2143/JKS.1.0.519230

Abstract :
After Greek and Latin, Arabic and Kurdish classical sources, a European literature on the Kurds developed. The French, English and German writings are widely known, but the Italian sources, among the oldest, are also the least known, even though they are of extraordinary interest. The primary sources dating from the 13th to the 19th century demostraate continuity i nrelations between Kurdistan and Italy and were rwritten by travellers ,diplomats, missionaries and lerchants who crossed Kurdistan to get to Persia or Mesopotamia. WIth the exception of th works on the subject written by Domenico Lanza, Maurizio Grarzoni, Guiseppe Campanile and Alessandro De Bianchi, Italian travellers left only short notes on the Kurds and Kurdistan because their acquaintance with the region was limited to the time necessary to cross it.


Download article