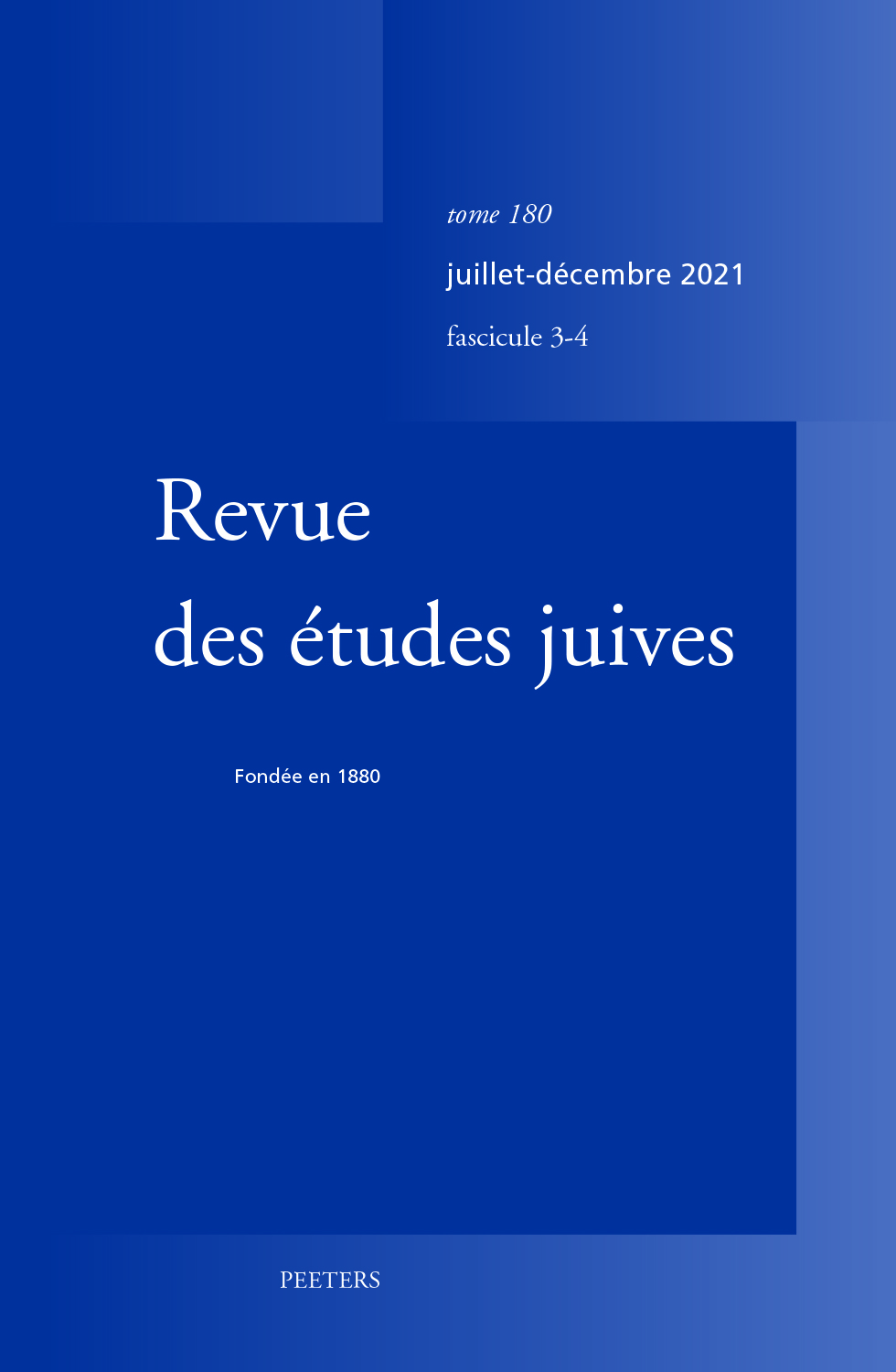 Document Details :

Title: Petuḥot and Setumot in the Torah and the Torah Songs according to Minḥat Shay
Author(s): BETZER, Z.
Journal: Revue des Études Juives
Volume: 163 Issue: 1-2 Date: 20004
Pages: 71-85
DOI: 10.2143/REJ.163.1.504716

Abstract :
La question des parashiyyot petuḥot et setumot dans la Torah a été traitée par Maïmonide dans son ouvrage bien connu sur les règles du Sefer Torah. Mais ces règles se présentent alors différemment selon les passages. Les petuḥot et les setumot apparaissent aussi dans deux manuscrits ben-Asherites: Leningrad ms B 19a et le Codex d'Alep. Seules les règles établies par Maïmonide étaient connues de Norzi, auteur du Minḥat Shay. Mais celui-ci a utilisé, par ailleurs, d'autres références: ouvrages séfarades avec leurs notes marginales, Or Torah (de di Lonzano), Qiryat Sefer (de Ha-Meiri), etc. Il en va de même pour la forme du «Cantique de la mer» (Shir ha-Yam): Norzi ne disposait là encore que de la version maïmonidienne, bien qu'au fil du temps les systèmes se fussent multipliés. Dans cet article sont étudiés, de ce point de vue, le degré de conformité du Minḥat Shay avec les traditions séfarade, yéménite et ashkenaze, et les modes de décision de Norzi en ce domaine. Un aspect nouveau de son système devrait ainsi être mis en lumière.

The issue of the parashiyyot petuḥot and setumot in the Torah had been concluded by Maimonides in his well-known ruling in his Sefer Torah Rules. However, in several places in this ruling of Maimonides, there are different versions, which opened doors to different conclusions. The petuḥot and setumot appear to us also in two reliable Ben-Asherite manuscripts: Leningrad ms B19a and the Aleppo Codex. Of these three above-mentioned sources only the Maimonides' ruling was available to Norzi, the author of Minḥat Shay, though he appended other sources on which he relied: Sephardic books and their marginal notes, Or Torah (of di Lonzano), Qiryat Sefer (of Ha-Me'iri) and others. The situation is similar in the matter of the shape of the Song of the Sea (Shirat Hayyam) and the Song of Moses (Shirat Ha'azinu). Here also Norzi had only the Maimonides version before him, though over time the systems multiplied. In this article I describe the situation in Minḥat Shay, the degree of its closeness to Sephardic, Yemenite and Ashkenazi traditions, and also the way by which Norzi determined his resolutions in these matters. This presentation will cast light on an additional aspect of Norzi's system in his work.


Download article