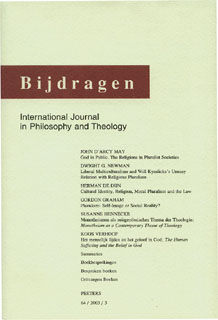 Document Details :

Title: Could a Religious Ethics ever be Universal?
Subtitle: A Critical Appraisal of the Discussion between Spinoza and his Roman Cahtolic Correspondents.
Author(s): ROOTHAAN, Angela
Journal: Bijdragen
Volume: 65 Issue: 2 Date: 2004
Pages: 209-225
DOI: 10.2143/BIJ.65.2.504388

Abstract :
In the correspondence between Baruch Spinoza (1632-1677) and his former friends Nicolas Stensen and Albert Burgh we find an interesting discussion on the (non)sense of committing oneself to a particular institutionalized religion. Burgh and Stensen, both being converts to Roman Catholicism, tried to convince the former Jew to make the same move as they did.
Spinoza answers Burgh that he will not do so, and refers to his 'universal religion', which he developed in his published work, the Theological-Political Treatise. This modern religion should provide the grounds for a peaceful social and individual life. It is tolerant towards all kinds of personal views of God, while holding high a universal ethics, which should be acceptable to all good men. In this article this small correspondence is analyzed and clarified with reference to Spinoza's works. Also the critical question will be asked whether Spinoza can convincingly maintain to have found a religion which is acceptable to all humankind. Rather, it is argued that his religion remains tied to the particular religious tradition(s) from which it takes it's ethical content. Finally, some valuable elements in Spinoza's approach will be singled out.