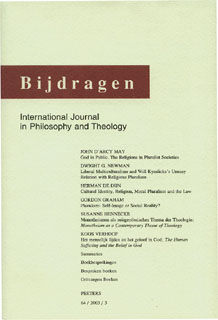 Document Details :

Title: Voortplantingsgericht klonen.
Subtitle: Een christelijk geïnspireerde ethische beschouwing.
Author(s): HANSEN, Bart , DIERICKX, Kris , SCHOTSMANS, Paul
Journal: Bijdragen
Volume: 65 Issue: 2 Date: 2004
Pages: 170-188
DOI: 10.2143/BIJ.65.2.504386

Abstract :
In this article we first clarify the technological possibilities in an Age of Biological Control. Secondly we offer a short overview of some major international statements on reproductive cloning. Since a careful use of terminology will help public policy, we opt for a clarification of the means and purposes of human cloning in a third paragraph. Fourthly, we summarize the main arguments against human reproductive cloning from a bio-ethical (casuistry) point of view. The main objective is however the analysis of the influence of two different theological interpretations of Imago Dei in the cloning debate: stewardship and created co-createdness. We evaluated the dynamic approach from a creational perspective to be the most apt for coping with new biotechnological developments. The authors conclude, however, that also this more dynamic theological approach leads to a radical rejection of reproductive cloning.