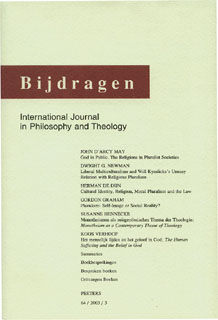 Document Details :

Title: A Possible Present for Theology
Subtitle: Theological Implications of Jean-Luc Marion's Phenomenology of Givenness
Author(s): VAN DEN BOSSCHE, Stijn
Journal: Bijdragen
Volume: 65 Issue: 1 Date: 2004
Pages: 55-78
DOI: 10.2143/BIJ.65.1.503906

Abstract :
This paper examines the consequences of Jean-Luc Marion's phenomenology of givenness for theology. Today, it seems, the human cannot encounter a real Otherness in immanence, let alone in history. This is theology's main problem in today's western culture marked by the experience of the absence of God. The consequence is that each and everything becomes subjectified, included God's presence. God seems no longer to be present himself. The author finds in Marion's phenomenology of givenness, the possibility to think again the encounter with real otherness, and this according to God's threefold manifestation: God's invisible mystery as the otherness of history, God's advent in history in Jesus Christ, and finally, the Eucharistic Christ – indeed these are three manifestations for which Cardinal Ratzinger uses the term of God's praesentia realis. In the first instance this applies at the level of God's possible appearing as the Transcendent in immanence. Givenness retrieves a real otherness in our gazing gaze, in the self-giving of phenomenality, and thus makes the phenomenon of the other belong to phenomenality as invisible. The philosophical and theological consequences of this otherness belonging to phenomenality appear to be multiple. Second, Marion succeeds in thinking a phenomenon of revelation-as-possibility, of which Jesus Christ appears to be the historical paradigm. And third, the miraculous event of Eucharistic presence can be understood phenomenologically as a phenomenon of revelation. Looked at from a theological perspective, it appears thus that Marion's phenomenology of givenness offers to theology a new first philosophy as ancilla theologiae: it provides theology again with a presence, as a present or a gift.