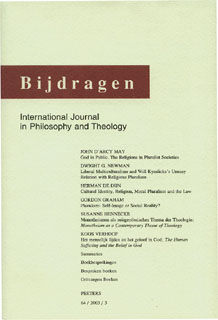 Document Details :

Title: Incarnation as a Prerequisite: Marion and Derrida
Author(s): SNELLER, Rico
Journal: Bijdragen
Volume: 65 Issue: 1 Date: 2004
Pages: 38-54
DOI: 10.2143/BIJ.65.1.503905

Abstract :
"God beyond Being": the vertigo of Marion's famous phrase entails serious questions. Aiming at piety and respect as to God's alterity, it seems to end in a hazardous neglect of incarnation. Is it 'Jewish' thinking (viz., J. Derrida's) that has to remind a 'Christian' thinker (viz., J.-L. Marion) of incarnational necessity? First, attention is drawn towards Marion's critique of Heidegger and his rejection of the Heideggerian condition imposed upon divine Revelation: the condition of having to give in to ontological difference. Next, Marion's critique of Derrida is subjected to a more detailed study. The author attempts to make clear that, according to Marion, Derrida, while pretending to go behind Heideggerian ontological difference, falls back behind it. The Derridean concept of différance, says Marion, might be seen as just a contemporary figure of an underlying, more fundamental, ontological difference. Finally, a Derridean stance is adopted in a formulation of some serious questions as to Marion's theo-phenomenological project itself. In particular, it is asked whether Marion's project avoids what will be termed an 'incarnational' necessity, imposed by philosophical rigour and also inscribed within the Christian tradition.