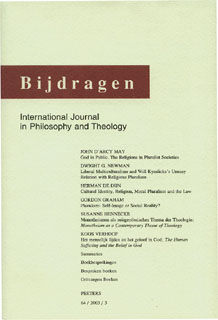 Document Details :

Title: La raison du don
Author(s): MARION, Jean-Luc
Journal: Bijdragen
Volume: 65 Issue: 1 Date: 2004
Pages: 5-37
DOI: 10.2143/BIJ.65.1.503904

Abstract :
In this contribution the phenomenology of the gift is examined. In a first section we see how a pure gift seems to contradict itself, in that it is not gratuitous. We can observe this in its three dimensions of the giver, the receiver and the given gift: at each time the gift is turned into an exchange, hence economy economizes on the gift. In a second section this observation is elaborated: economy will always give 'sufficient reason' for a gift, turning it into an exchange. But does this exclude that we in fact deal with a gift? The third section opts for a different path: reducing the gift to pure giving makes it possible to retrieve a pure gift, which does not in the end deliver itself to the reason of economy. And this can be done by placing between parentheses the terms of the exchange: alternately the giver, the receiver, and the given gift. Section four elaborates on paternity as an example of this pure gift, where we no longer have to retrieve the gift by disqualifying the exchange with its reciprocity, but immediately face the horizon of giving, free of sufficient reason. For, on the one hand, paternity gives itself by giving. And on the other hand, in the phenomenon paternity the triple paradox of the gift reduced to giving is accomplished. Furthermore (section five), in paternity the gift gives what it is not and thus changes the metaphysical principle of identity: something can become (or rather give) more than itself, and from this a new definition of possibility as the excess of the self to itself is the result. The ultimate proper horizon of the gift then becomes the possibility without condition (section six): the gift gives itself without any other reason than its self-giving, appearing as 'givable' and 'acceptable'. The conclusion can then be that the gift, and any phenomenon that gives itself, can do without the principle of sufficient reason (section seven): it gives itself and (its) reason.