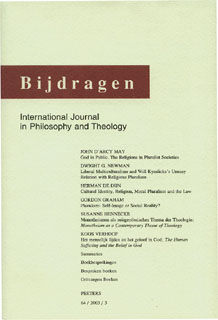 Document Details :

Title: Burger van één wereld? Het theologisch-politiek legaat van het Kantianisme
Author(s): LOOSE, Donald
Journal: Bijdragen
Volume: 64 Issue: 4 Date: 2003
Pages: 369-399
DOI: 10.2143/BIJ.64.4.503583

Abstract :
Are we the Citizens of just one empirical world? Have all reminiscences to the transcendental become atavistic in the political domain? This article defends the lasting relevance of the kantian doctrine of analogy for the significance of both religion and politics in post-modern times. The symbolic representation of the indemonstrable concept of practical reason itself functions as well in politics as in religion in the manner of a typology of the law and a legislation, which must be understood as the always indirect representation of the absolute good will. Only this idea avoids the empirical illusions of an imaginary self-sufficient political or religious authority. All authority based on the concept of God as legislator as far as a promulgator of the moral law, with its intrinsic character of obligation, is conceived as unavoidable for the finite reason. Therefore the execution of the king during the French revolution as a legal act in itself is inconceivable as far as it intended the abrogation of the representation of the instance of executive obligation as such. All political doctrines that would claim the installation of the moral kingdom of God on earth are equally chimerical. Since Kant only claims the idea of legislation of practical reason and the guarantee of the viability of morals in the empirical world when evoking God in practical philosophy and calling upon the historical Christian religion, his theological political doctrine goes beyond the ideological political and religious setting of his time and it remains on the contrary a valuable warning for actual political and religious terrorism.