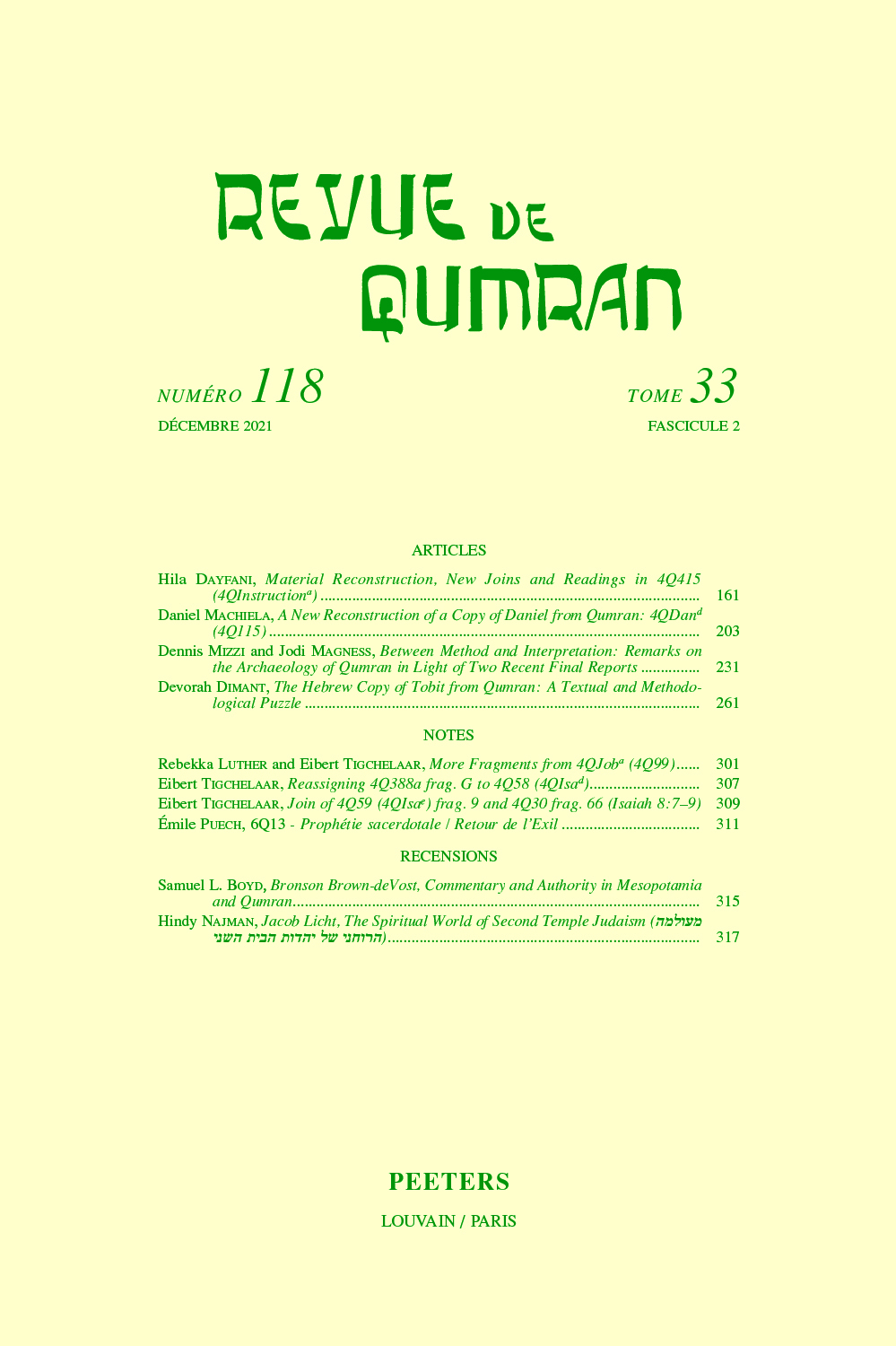 Document Details :

Title: Exorcising Belial?
Subtitle: Rethinking 11Q11 v 4 - vi
Author(s): PATMORE, Hector M.
Journal: Revue de Qumran
Volume: 34 Issue: 2 Date: numéro 120, 2022
Pages: 215-239
DOI: 10.2143/RQ.34.2.3291413

Abstract :
11Q11 as a whole is usually characterised as a magical rite intended for exorcistic use. 11Q11 v 4 - vi 3 contains one of the better preserved compositions in this collection. Scholarly consensus holds that this unit, which for ease we call 'the Belial psalm', is an exorcistic incantation with which the victim addresses the demon Belial directly in a mocking tone. This paper argues that this interpretation is highly problematic on contextual, lexical, and textual grounds. I propose that this psalm should instead be read as a plea for divine assistance: the psalm entreats God to address Belial before empowering an angel to imprison him in Sheol. This reconstruction and interpretation resolve the main difficulties presented by existing interpretations.


---

11Q11 est typiquement caractérisé dans son ensemble comme un rite magique conçu pour être utilisé dans le cadre d'exorcisme. 11Q11 v 4 - vi 3 contient une des compositions mieux conservées dans ce recueil. Le consensus actuel maintient que cette partie, appelée 'le psaume de Bélial', est une incantation par laquelle la victime harangue directement le démon sur un ton railleur en vue de l'exorciser. Cet article soutient que cette interprétation pose des problèmes de point de vue contextuel, lexical, en textuel. On propose plutôt d'interpréter ce psaume comme un appel pour invoquer l'assistance divine: le psalmiste supplie Dieu d'affronter Bélial et qu'il permette à un ange de l'emprisonner dans le schéol. Cette reconstitution et interprétation résolvent les problèmes principaux posés par les interprétations.


Download article