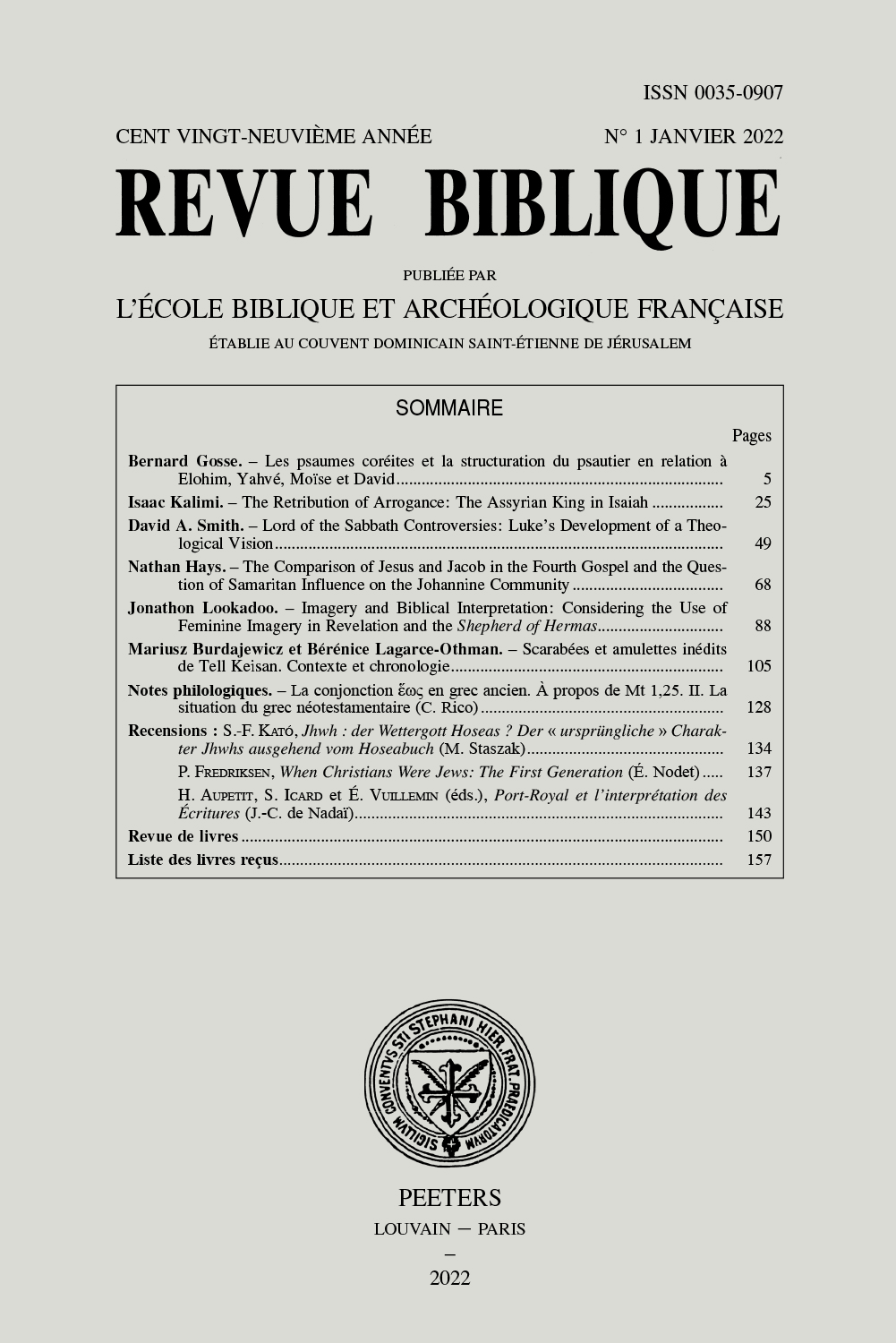 Document Details :

Title: Ägypten, Assur und die Wüste im Buch Hosea
Author(s): UEBERSCHAER, Frank
Journal: Revue Biblique
Volume: 130 Issue: 1 Date: 2023
Pages: 12-40
DOI: 10.2143/RBI.130.1.3291383

Abstract :
On several instances, the Book of Hosea mentions Assyria and Egypt. While Assyria refers to the political power of the 8th cent. BCE, Egypt is mentioned both as political power and a mythological entity. This article focusses on the references to Egypt and points out that the earliest stage of the book refers to Egypt as the place of the first encounter between YHWH and Israel without any notice of the exodus as tradition of deliverance from slavery. As this is crucial for the argument in Hos 12:1-13:8, the conclusion has to be drawn that the earliest book did not have any notion of this specific event. This fits well into the iconographic evidence and latest models for the dating of the exodus story.


---

En plusieurs endroits, le livre d'Osée fait mention de l'Assyrie et de l'Égypte. Alors qu'avec l'Assyrie, Osée évoque la puissance géopolitique du 8ème siècle avant notre ère, il mentionne l'Égypte non seulement comme puissance géopolitique mais aussi comme une entité mythologique. Le présent article s'intéresse à ces références égyptiennes et montre que les strates les plus anciennes du livre d'Osée décrivent l'Égypte comme le lieu de la première rencontre entre YHWH et Israël, sans toutefois évoquer l'Exode comme une tradition de libération de l'esclavage. Ce point est déterminant pour l'argumentation d'Os 12,1-13,8; la conclusion s'impose alors que les couches les plus anciennes ne connaissent pas cet événement. Cela concorde avec les témoignages iconographiques et les derniers modèles de datation de la narration de l'Exode.


Download article