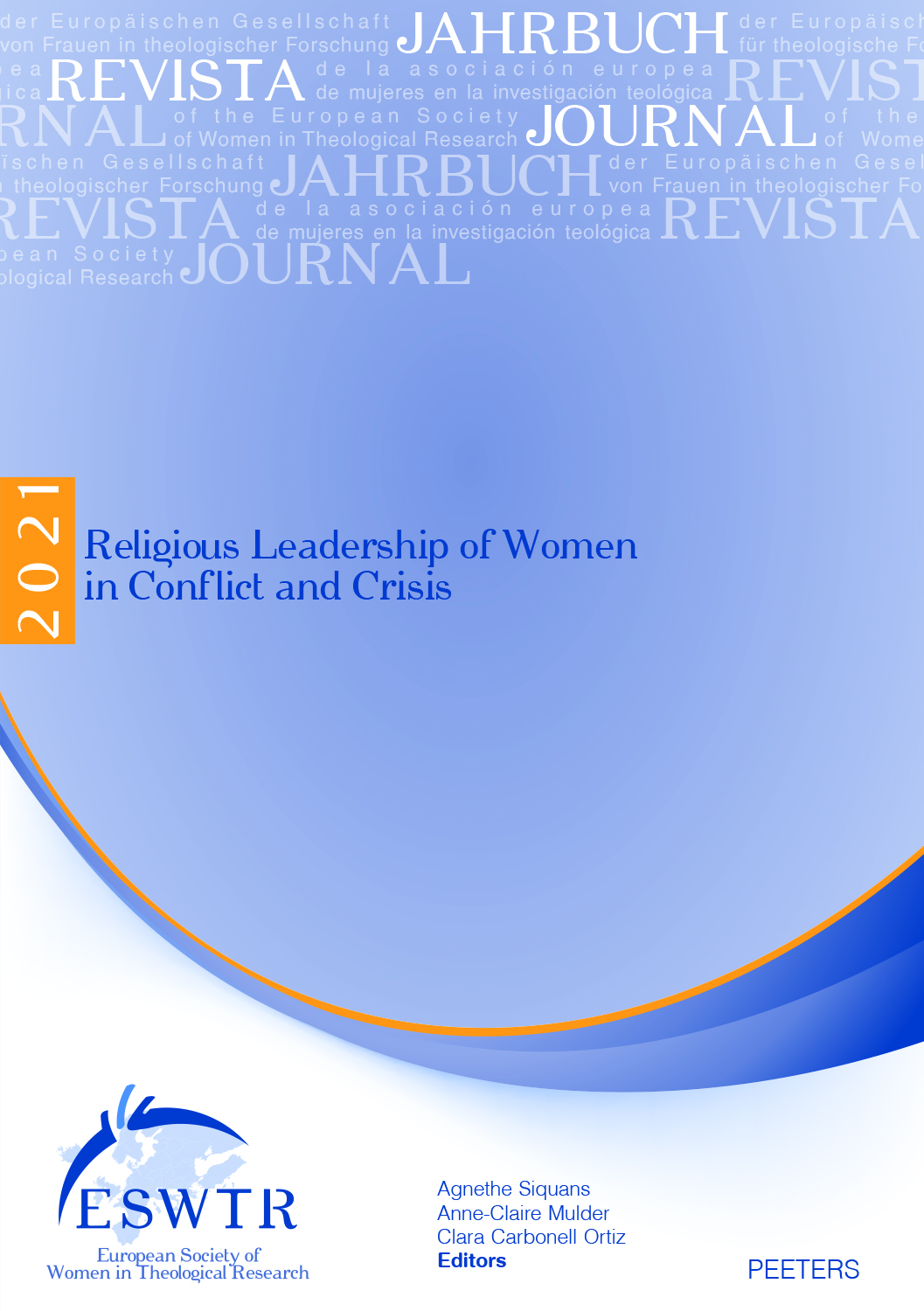 Document Details :

Title: To whom do you Attribute Religious Authority?
Subtitle: A Pilot Study
Author(s): MULDER, Anne-Claire
Journal: Journal of the European Society of Women in Theological Research
Volume: 30 Date: 2022
Pages: 89-121
DOI: 10.2143/ESWTR.30.0.3290963

Abstract :
The text 'To Whom Do You Attribute Religious Authority?' is the report of a pilot study into patterns of attribution of religious authority among participants of the seventh Synod-weekend of the (Dutch) Ecumenical Women's Synod. It must be situated in the broader discussion on changing patterns in (religious) authority and departs from the presupposition that authority is relational and attributed instead of linked to a position; an idea that is further developed in the Italian-German discourse on a symbolic in the feminine. Two questions guided this pilot study: 1) to whom – and for what reasons – do the participants of this Synod-weekend attribute religious authority, and 2) do they distinguish between women and men in the attribution of authority. The pilot study consisted of a questionnaire, followed by eight interviews, in which respondents to the questionnaire reflected upon their answers. The answers indicate that the respondents prefer horizontally organised authority relations. Being inspired by the other, either by their wisdom or faith, and by their integrity, is an important impulse to trust and hence to attribute religious authority to this person. They also show an ambivalence between the paradigm of equality between the sexes and a practice of relating to women. The majority of respondents did not distinguish between women and men in the attribution of religious authority; the answers on the question who had inspired their faith indicated, however, that they were more inspired by women than by men in their life.


---

Der Text 'To Whom Do You Attribute Religious Authority?' ist ein Bericht einer Pilotstudie über die Muster der Zuschreibung von religiöser Autorität unter den Teilnehmerinnen des siebten Synodenwochenendes der (niederländischen) Ökumenischen Frauensynode. Der Bericht soll in die breitere Diskussion sich wandelnder Muster von (religiöser) Autorität eingeordnet werden und geht von der Annahme aus, dass Autorität relational und zugeschrieben statt an eine Position gebunden ist; eine Idee, die im deutsch-italienischen Diskurs über eine Symbolik im Weiblichen weiterentwickelt wird. Zwei Fragen leiteten diese Pilotstudie: 1) Wem – und aus welchen Gründen – schreiben die Teilnehmerinnen dieses Synodenwochenendes religiöse Autorität zu? und 2) Machen sie bei der Zuschreibung von Autorität einen Unterschied zwischen Frauen und Männern? Die Pilotstudie bestand aus einem Fragebogen, gefolgt von acht Interviews, bei denen die befragten Frauen über ihre Antworten reflektierten. Aus den Antworten geht hervor, dass die Befragten horizontal organisierte Autoritätsbeziehungen bevorzugen. Sich von einer anderen Person inspirieren zu lassen, sei es durch ihre Weisheit oder ihren Glauben, sei es durch ihre Integrität, ist ein wichtiger Impuls, dieser Person zu vertrauen und sie somit als religiöse Autorität anzuerkennen. Sie zeigen auch eine Ambivalenz zwischen dem Paradigma der Gleichheit der Geschlechter und einer Praxis der Beziehung zu Frauen. Die meisten Befragten machen bei der Zuweisung religiöser Autorität keinen Unterschied zwischen Frauen und Männern; die Antworten auf die Frage, wer ihren Glauben inspiriert hat, zeigen jedoch, dass sie sich in ihrem Leben eher von Frauen als von Männern inspirieren ließen.


---

'¿A quién atribuyes autoridad religiosa?' es el informe de un estudio piloto sobre los patrones de atribución de autoridad religiosa llevado a cabo entre las participantes del Séptimo Sínodo de Fin de Semana del Sínodo Ecuménico de Mujeres de los Países Bajos. El estudio se sitúa en el contexto de la actual discusión sobre los cambios en los patrones de reconocimiento de autoridad religiosa. Parte de la presuposición de que la autoridad es relacional y atribuida en lugar de vinculada a una posición, una idea que se halla desarrollada con mayor profundidad en el discurso italiano y alemán sobre lo simbólico en lo femenino. Dos cuestiones guían este estudio: 1) A quién, y por qué motivos, las participantes en el sínodo otorgan autoridad; y 2) si al hacerlo, distinguen entre hombres y mujeres. El estudio piloto se valió de un cuestionario, al que siguieron ocho entrevistas individuales en las que las entrevistadas reflexionaban sobre sus respuestas al cuestionario. Las respuestas indican que las participantes prefieren formas de organización horizontal en las relaciones de autoridad. El hecho de sentirse inspiradas por otra/o, ya sea por su sabiduría o su fe o bien por su integridad, es un impulso importante para confiar en esa persona y, consecuentemente, reconocerle autoridad religiosa. Las respuestas también muestran cierta ambivalencia hacia el paradigma de la igualdad entre los sexos frente a la práctica de relaciones femeninas. La mayoría de las que respondieron el cuestionario no distinguieron entre hombres y mujeres a la hora de atribuir autoridad religiosa. Sin embargo, sus respuestas a la pregunta sobre quién ha inspirado su fe indican que se sienten más inspiradas por mujeres que por hombres.


Download article