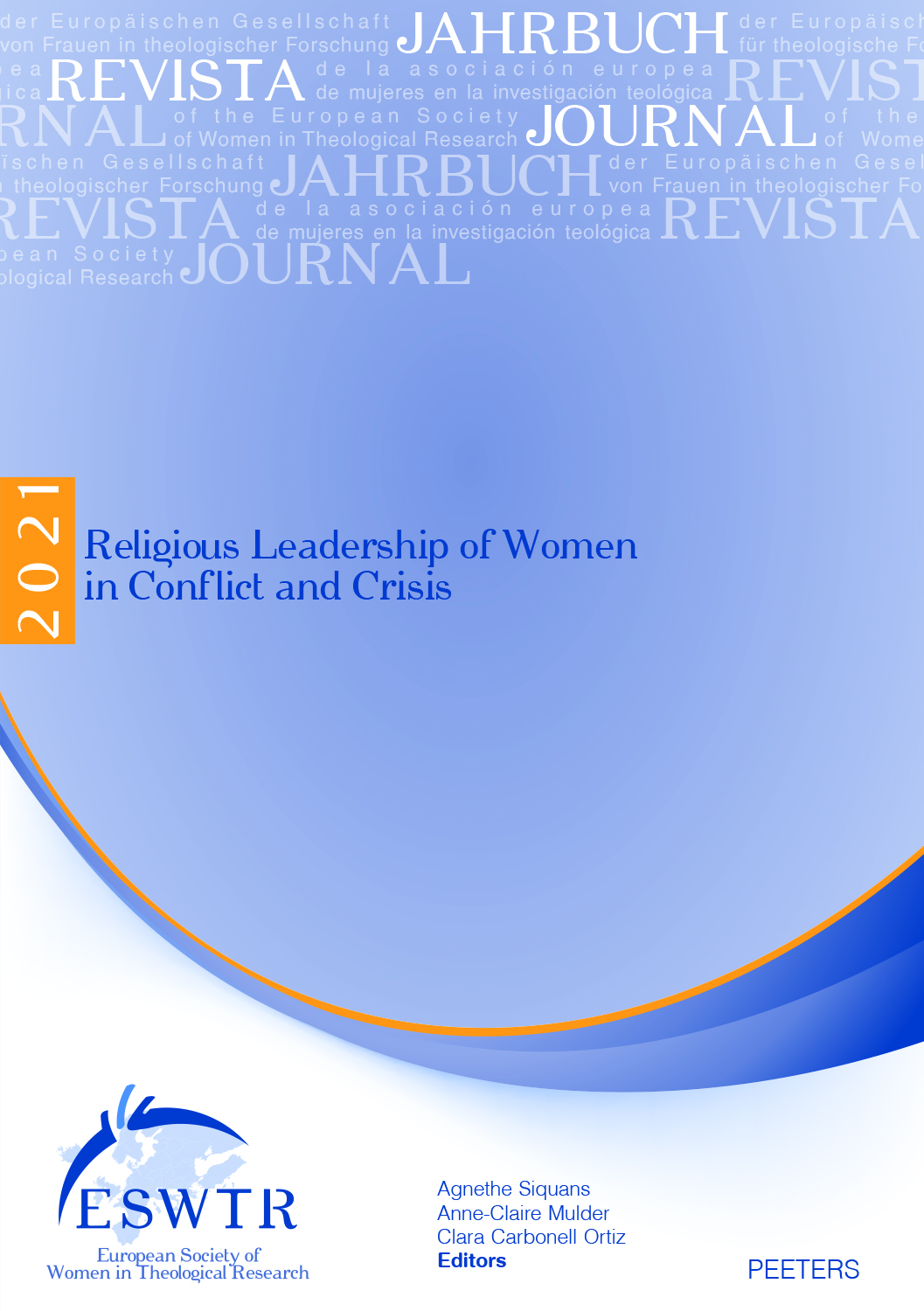 Document Details :

Title: Meanwhile, Back at the Shelter
Subtitle: A Queer Theology of Coming Home
Author(s): VAN DEN BERG, Mariecke
Journal: Journal of the European Society of Women in Theological Research
Volume: 30 Date: 2022
Pages: 15-32
DOI: 10.2143/ESWTR.30.0.3290959

Abstract :
This article is a slightly revised version of the author's inaugural lecture, held on the 12th of November 2021 at Radboud University in Nijmegen, upon accepting the chair of Feminism and Christianity (Catharina Halkes Chair). It takes as its point of departure an off-hand remark in a church report on the position of LGBTIQ+ believers in a small Protestant denomination in the Netherlands. In the report it is stated that while heterosexual marriage is at home in God's creation, same-sex relationships are 'a shelter in a broken life'. The article argues for a queer approach where the shelter is reclaimed as a theological space and positionality. Generations of cabin dwellers in past and present times have taught us to nurse a certain amount of healthy house scepticism, which in this article is applied to the solid 'house' of Christian traditions. Building on arguments from feminist and queer architecture, it is furthermore argued that shelters (or cabins, or huts) allow us to think in terms of 'scrap theology'. This is a theology that provides shelter by using the left-overs from tradition to build new dwellings that are positioned on the uncomfortable border between 'in' and 'out' of the tradition, thus confronting it with what it has deemed its expendable 'surplus'.


---

Dieser Artikel ist eine leicht überarbeitete Fassung der Antrittsvorlesung der Autorin, die sie am 12. November 2021 an der Radboud Universität in Nijmegen anlässlich ihres Rufes auf den Lehrstuhl für Feminismus und Christentum (Catharina Halkes-Lehrstuhl) hielt. Der Ausgangspunkt ist die beiläufige Bemerkung in einem kirchlichen Bericht einer kleinen protestantischen Konfession in den Niederlanden über die Stellung von LGBTIQ+-Gläubigen. In dem Bericht heißt es, dass die heterosexuelle Ehe in Gottes Schöpfung zu Hause ist, während gleichgeschlechtliche Beziehungen 'ein Zufluchtsort für zerbrochene Leben' sind. Der Artikel spricht für einen queeren Ansatz, bei dem der Zufluchtsort als locus theologicus und als theologische Position zurückgewonnen wird. Generationen von Hüttenbewohnern in der Vergangenheit und Gegenwart lehren uns, eine gewisse gesunde Skepsis gegenüber dem Haus zu pflegen, die in diesem Artikel auf das solide 'Haus' christlicher Traditionen angewandt wird. Aufbauend auf Argumenten feministischer und queerer Architektur argumentiert die Autorin, dass Zufluchtsorte wie Unterstände (oder Kabinen oder Hütten) uns ermöglichen, in Begriffen der 'Schrott-Theologie' zu denken. Es handelt sich um eine Theologie, die Schutz bietet, indem sie die Überbleibsel der Tradition nutzt, um neue Wohnhäuser zu bauen; eine Theologie, die sich an der unbequemen Grenze zwischen 'In' und 'Out' der Tradition positioniert und die Tradition mit dem konfrontiert, was sie als ihren entbehrlichen 'Überschuss' ansieht.


---

Este artículo es una revisión ligeramente revisada del discurso inaugural que la autora ofreció el 12 de noviembre de 2021 en la Universidad de Radboud (Nimega) con motivo de su instalación en la cátedra Catharina Halkes de Feminismo y Cristianismo. Una observación casual sobre la situación de los creyentes LGBTIQ+ en un informe eclesial de una pequeña denominación protestante en los Países Bajos es su punto de partida. En el informe se afirma que, a pesar de que el matrimonio heterosexual responde al propósito original de Dios para su creación, las relaciones entre personas del mismo sexo son 'un refugio en medio de una vida rota'. Este artículo propone una lectura en la que se reivindica el refugio como espacio teológico a la vez que posicionalidad. Generaciones pasadas y presentes que han habitado en la cabaña nos han enseñado a tener un cierto grado de sano escepticismo al pensar en la casa, una actitud que en este artículo se aplica al 'edificio' de las tradiciones cristianas. Recurriendo a argumentos procedentes de la arquitectura feminista y queer, se arguye que los refugios, ya sean cabañas o cobertizos, nos permiten pensar en una 'teología de las sobras'. Se trata de una teología que construye nuevas moradas en las que refugiarse usando las sobras de la teología tradicional, por bien que ello nos posiciona en la incómoda frontera que existe entre el estar 'dentro' y 'fuera' de la tradición. La teología tradicional se ve así confrontada con aquello que considera un excedente desechable.


Download article