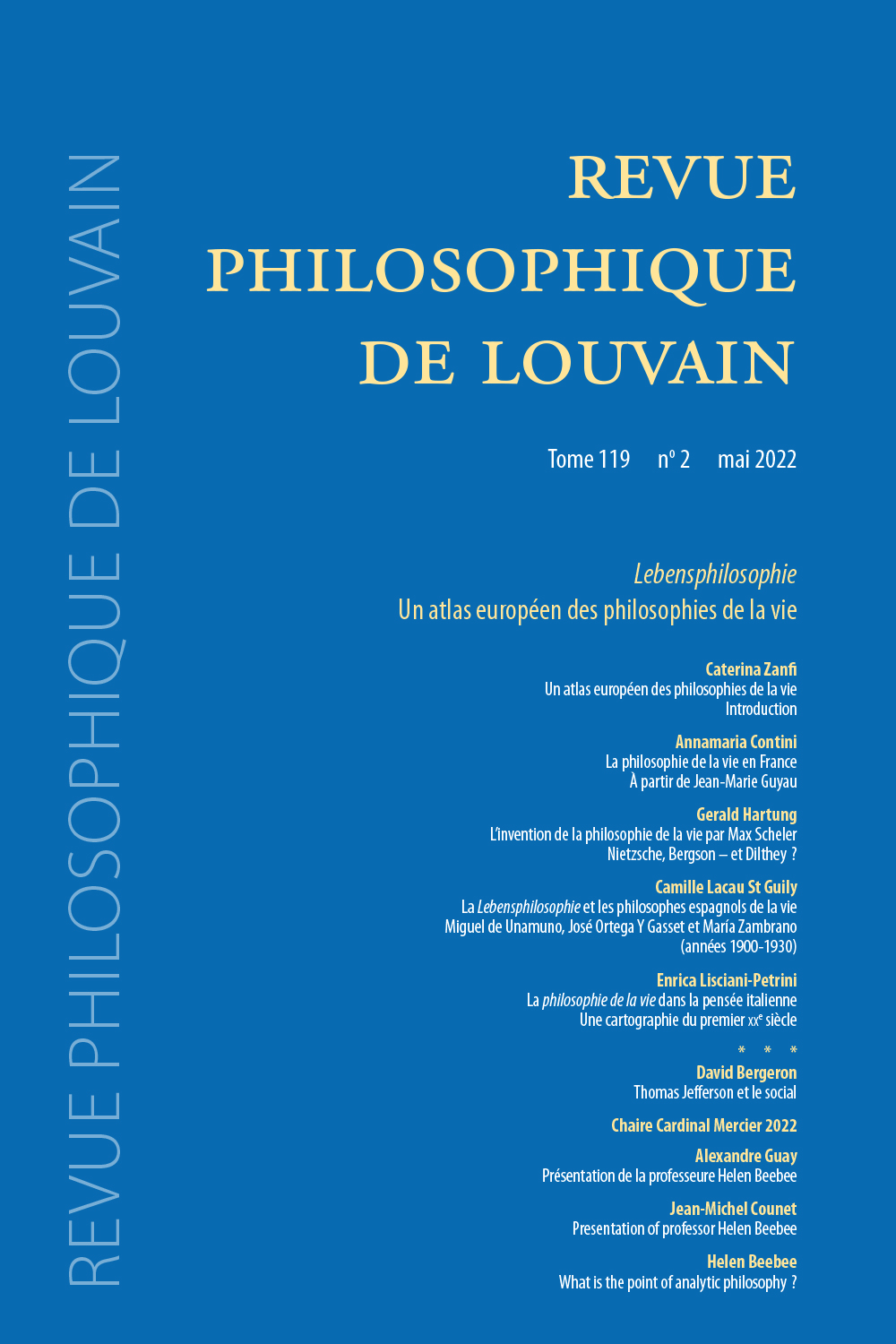 Document Details :

Title: La philosophie de la vie dans la pensée italienne
Subtitle: Une cartographie du premier XXe siècle
Author(s): LISCIANI-PETRINI, Enrica
Journal: Revue Philosophique de Louvain
Volume: 119 Issue: 2 Date: mai 2022
Pages: 247-271
DOI: 10.2143/RPL.119.2.3290933

Abstract :
Cet article a pour objectif de reconstituer la généalogie de la philosophie de la vie, qui a été développée en Italie, en particulier du début du XXe siècle – chez des auteurs italiens tels que Rensi et Tilgher – jusqu'à nos jours. Dans cette perspective, l'article analyse les diverses sources d'inspiration, qui ont nourri cette lignée théorique, dont on trouve la trace dans les réflexions de penseurs tels que Nietzsche, Bergson, Simmel. Mais cet article démontre aussi qu'une «philosophie de la vie», au sens large, est constitutivement présente dans la pensée italienne depuis l'Humanisme, du fait, précisément, de la spécificité de cette pensée, qui est toujours «extroflexe» sur la «vie effective» pour employer les termes célèbres de Machiavel. C'est la raison pour laquelle on a pu parler d'une «différence italienne» par rapport aux autres philosophies classiques, allemande et française, plus empreints de rationalisme. Cette lignée – et ce sera le dernier point de l'article – aboutit directement à la pensée italienne contemporaine et à son potentiel théorique, particulièrement fécond dans une conjoncture qui, comme aujourd'hui, est marquée par la pandémie d'une part, et par la guerre de l'autre, c'est-à-dire par des situations névralgiques qui frappent (ou traversent) directement la vie.


---

The aim of this article is to reconstitute the genealogy of the philosophy of life from its development in Italy, especially at the start of the 20th century – notably by Italian authors such as Rensi and Tilgher – up to our own times. To do so the article analyses the various sources of inspiration that nurtured this theoretical line of thought, traces of which are found in such thinkers as Nietzsche, Bergson, and Simmel. But this article shows also that a «philosophy of life» in a broad sense is constitutively present in Italian thought from the Renaissance onwards precisely because of the specific nature of this thought, which is always «extroflex» on «effective life», to use the famous expression of Machiavelli. This explains why it has been possible to speak of an «Italian difference» in comparison with other classical philosophies, both French and German, that are characterized by greater rationalism. Finally, this line of thought leads directly to contemporary Italian thought and its theoretical potential, which is particularly fertile in circumstances such as those of today, characterised on the one hand by the pandemic, and on the other, by war, i.e. by sensitive situations that directly strike (or cut across) life.


Download article