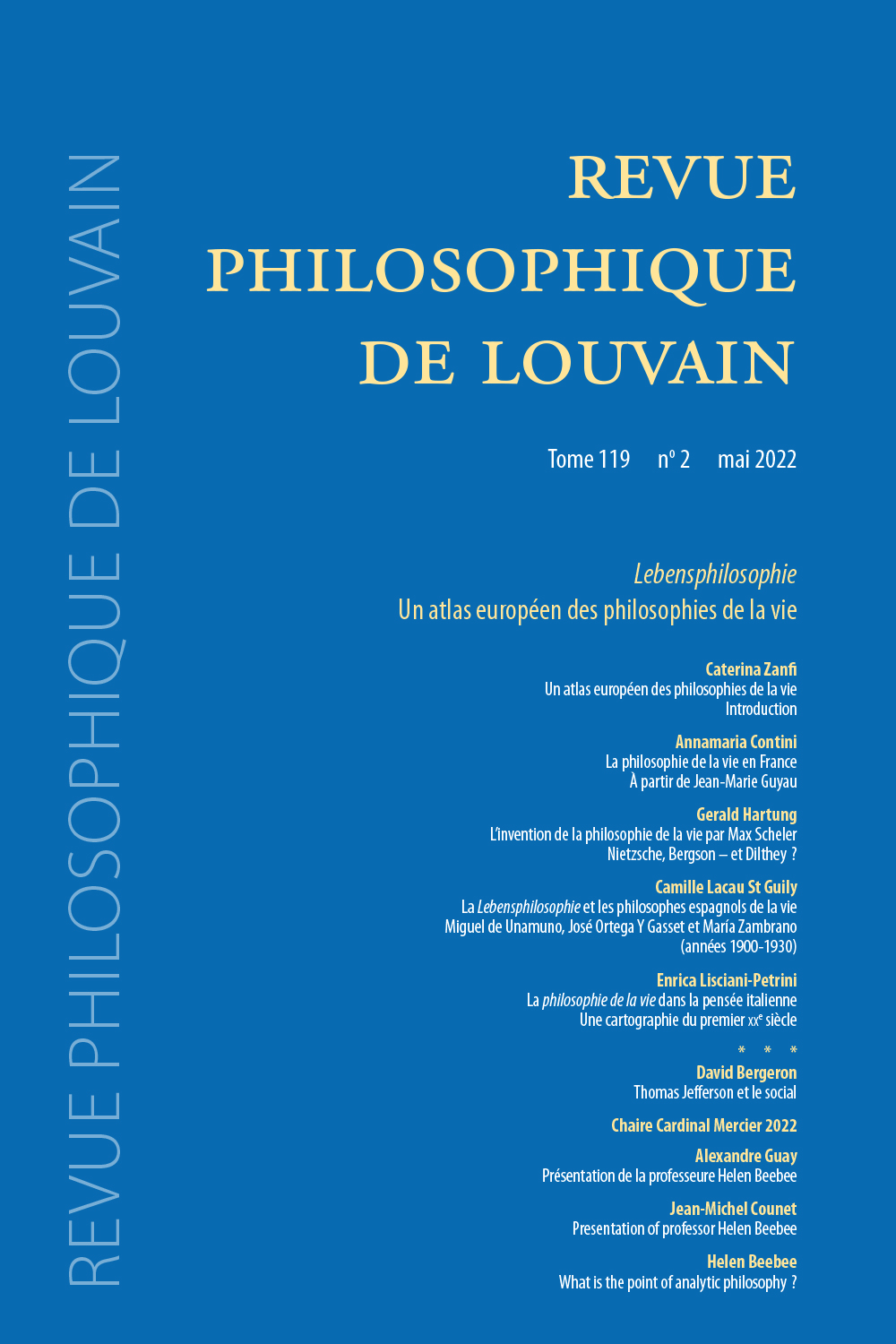 Document Details :

Title: L'invention de la philosophie de la vie par Max Scheler
Subtitle: Nietsche, Bergson - et Dilthey?
Author(s): HARTUNG, Gerald
Journal: Revue Philosophique de Louvain
Volume: 119 Issue: 2 Date: mai 2022
Pages: 203-217
DOI: 10.2143/RPL.119.2.3290931

Abstract :
Dans son essai Versuche einer Philosophie des Lebens (1913), Max Scheler a esquissé le programme théorique de la philosophie de la vie vers 1900. Il n'est guère surprenant qu'il mentionne Nietzsche pour les débuts de la philosophie de la vie, et Bergson comme étant son apogée. Si l'on n'est pas déconcerté par la mention de Dilthey dans cette série, c'est uniquement parce que ces trois auteurs donnent toute son efficacité au récit schélérien d'une série de tentatives dans la philosophie de la vie. Dans cet article, j'aimerais prouver que l'herméneutique de la vie de Dilthey a ses propres objectifs: la vie dénote un problème relatif à la connaissance et à la compréhension. Dans ce contexte, Dilthey doit plutôt être considéré comme antipode de Nietzsche que comme contributeur à un projet commun méritant d'être appelé philosophie de la vie. Je soutiens que parler de philosophie de la vie comme une sous-discipline de la philosophie soulève des difficultés systématiques considérables, les ébauches programmatiques étant vers 1900 plus hétérogènes que ne le suggère la narration de Scheler.


---

In his treatise Versuche einer Philosophie des Lebens (1913), Max Scheler outlined the theoretical programme of the philosophy of life around 1900. It is hardly surprising that he mentions Nietzsche as the beginning of the philosophy of life, and Bergson as its peak. If one is not disconcerted by the mention of Dilthey in this series, it is only because these three authors give full effect to Scheler's account of a series of attempts in the philosophy of life. In this paper I would like to prove that Dilthey's hermeneutics of life has its own objectives: life denotes a problem of knowledge and understanding. In this context, Dilthey should rather be seen as the antipode of Nietzsche than as a contributor to a common project worthy of being called philosophy of life. I argue that speaking of philosophy of life as a sub-discipline of philosophy raises considerable systematic difficulties, as the programmatic outlines around 1900 were more heterogeneous than Scheler's narrative suggests.


Download article