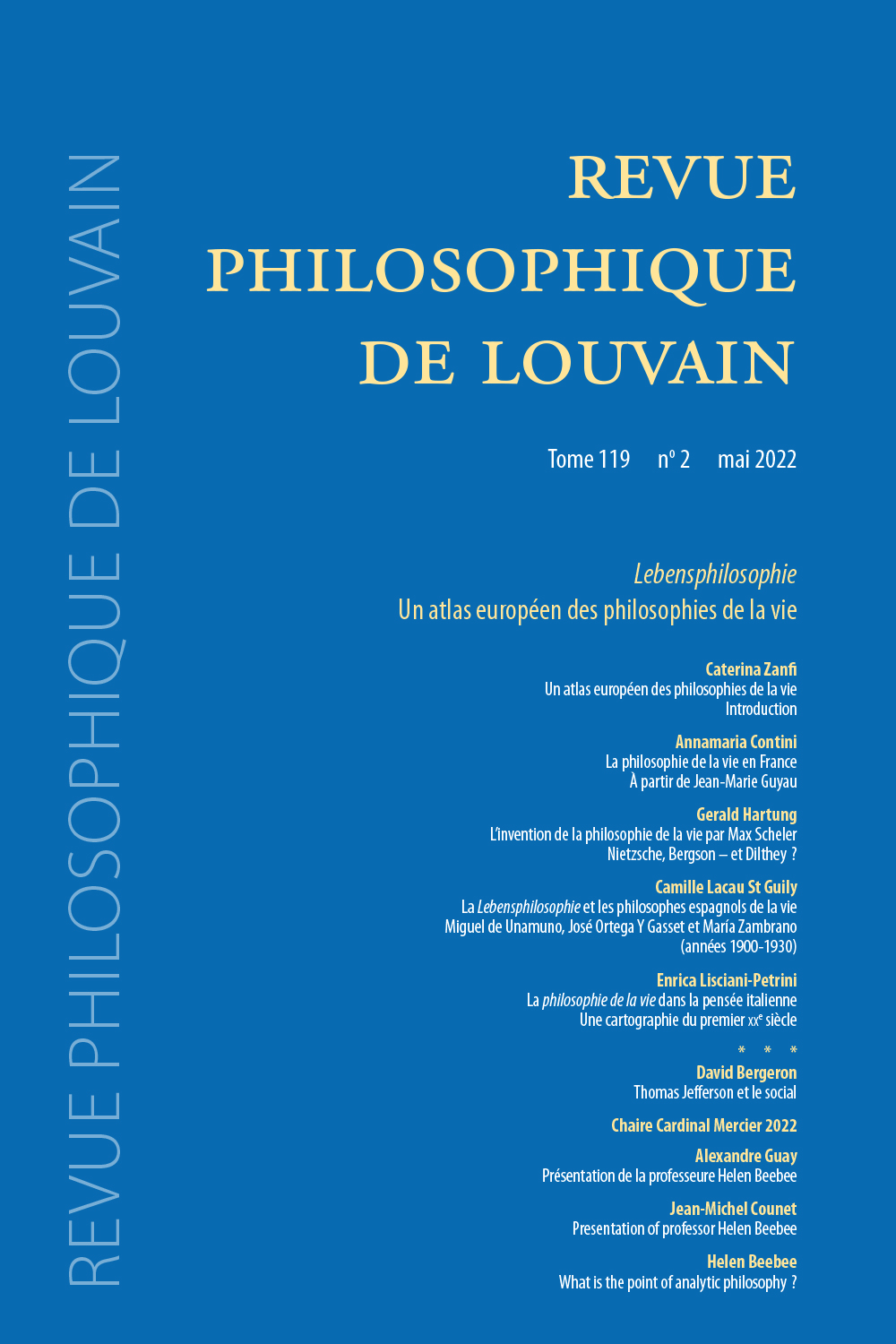 Document Details :

Title: La philosophie de la vie en France
Subtitle: À partir de Jean-Marie Guyau
Author(s): CONTINI, Annamaria
Journal: Revue Philosophique de Louvain
Volume: 119 Issue: 2 Date: mai 2022
Pages: 177-202
DOI: 10.2143/RPL.119.2.3290930

Abstract :
La pensée de Jean-Marie Guyau (1854-1888), connue aujourd'hui par un petit cercle de spécialistes, a exercé une grande influence sur le débat philosophique de la fin du XIXe siècle et du début du XXe. Cet article se propose de reconstruire la particularité de la philosophie de la vie élaborée par Guyau, en analysant ses liens complexes avec le positivisme évolutionniste et avec une épistémologie biologique comme celle de Claude Bernard qui attribue à l'art un rôle exemplaire pour représenter les processus les plus propres au vivant. Nous verrons ainsi que Guyau dépasse le positivisme de l'intérieur, procède à une reconfiguration de l'éthique et développe un modèle théorique qui attire l'attention de Nietzsche comme de Bergson. La confrontation avec les perspectives de ces deux auteurs mettra en évidence l'originalité de Guyau et sa capacité à anticiper les stratégies et dispositifs des philosophies de la vie du XXe siècle.


---

The thought of Jean-Marie Guyau (1854-1888), known today by a small circle of specialists, had a great influence on the philosophical debate at the end of the 19th century and the beginning of the 20th. This article aims to reconstruct the distinctive features of Guyau's philosophy of life, by analysing its complex links with evolutionary positivism and with a biological epistemology such as that of Claude Bernard, which attributes to art an exemplary role in representing the processes most characteristic of living beings. We will thus see that Guyau goes beyond positivism from within, proceeds to a reconfiguration of ethics, and develops a theoretical model that attracts the attention of Nietzsche as well as Bergson. A confrontation with the perspectives of these two authors will highlight Guyau's originality and his ability to anticipate the strategies and devices of twentieth-century philosophies of life.


Download article