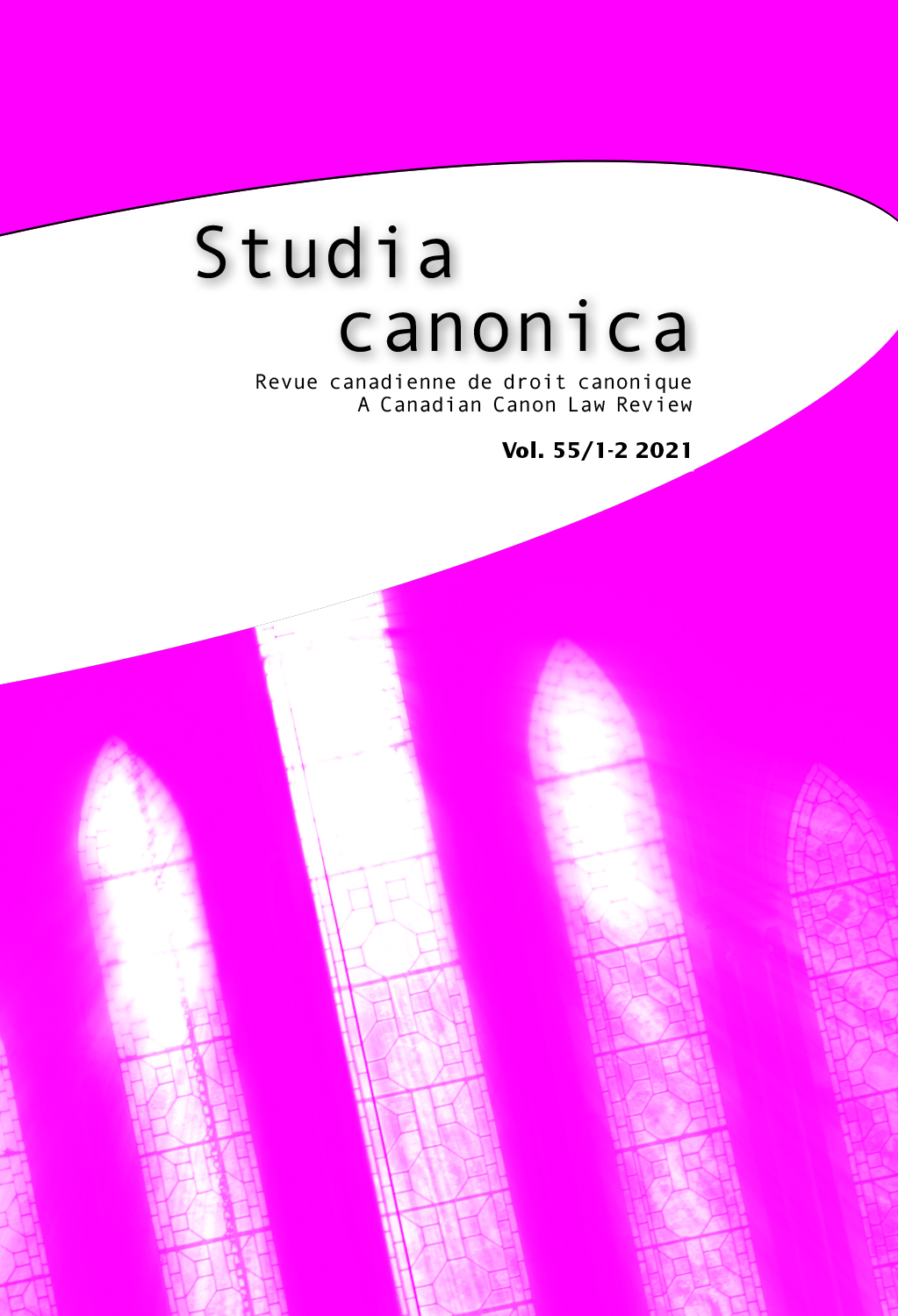 Document Details :

Title: «L'Église de Dieu est convoquée en synode»
Subtitle: Les défis théologiques et canoniques du Synode 2021-2023
Author(s): WIJLENS, Myriam
Journal: Studia Canonica
Volume: 56 Issue: 1 Date: 2022
Pages: 5-39
DOI: 10.2143/STC.56.1.3290852

Abstract :
Le Synode 2021-2023 est intitulé «Pour une Église synodale: communion, participation, mission». Il pose un certain nombre de défis théologiques et canoniques que cette étude aborde. Le passage d'un simple synode d'évêques à un synode de toute l'Église trouve son origine dans la reconfiguration ecclésiologique de la hiérarchie au sein du peuple de Dieu opérée par Vatican II et exprimée dans Lumen gentium. Cette reconfiguration est fondée sur la revalorisation du baptême et la compréhension de la révélation comme une rencontre directe de Dieu avec tous les hommes (Dei Verbum). Ceci, en combinaison avec le changement d'orientation d'une compréhension christologique à une compréhension pneumatologique, conduit à la doctrine du sensus fidei fidelium. Le synode exprime l'interaction entre l'Église locale et l'Église universelle (in quibus et ex quibus, Lumen gentium 23). Un synode ne suit pas les règles de la démocratie ou du parlementarisme, mais recherche la vérité pour laquelle le consensus est pertinent. Des questions se posent quant à savoir qui parle et décide au nom de qui dans une Église synodale. La notion de représentation doit être examinée. La participation de tous dans une Église synodale exige que l'on prête attention à la signification et à la relation entre la sacra potestas et le triple ministère du Christ (tria munera). Une Église synodale doit aller au-delà de l'écoute: comment se déroule la responsabilité dans une église synodale? L'étude conclut en exhortant les canonistes à adopter une compréhension évolutive de la loi afin que, par le biais de l'interprétation, les nouveaux développements des connaissances puissent avoir un impact sur la communauté.


---

The 2021-2023 Synod is entitled 'For a Synodal Church: Communion, Participation, Mission'. It poses a number of theological and canonical challenges which this study addresses. The change from a mere synod of bishops to a synod of the whole church finds its origin in Vatican II's ecclesiological reconfiguration of the hierarchy within the people of God as expressed in Lumen gentium. This is based on revaluing baptism and the understanding of revelation as an encounter of God with all people directly (Dei Verbum). This in combination with the change in focus from a christological to a pneumatological understanding leads to the doctrine of sensus fidei fidelium. The synod gives expression to the interaction of the local church and the church universal (in quibus et ex quibus, Lumen gentium 23). A synod does not follow the rules of democracy or parliamentary, but searches for the truth for which consensus is of relevance. Questions arise as to who speaks and decides on behalf of whom in a synodal church. The notion of representation needs attention. Participation of all in a synodal church requires attention to the meaning of and relation between sacra potestas and the threefold ministry of Christ (tria munera). A synodal church needs to go beyond listening: how does accountability in a synodal church unfold? The study concludes by urging canon lawyers to adopt an evolving understanding of the law so that through interpretation new developments in insights can impact the community.


Download article