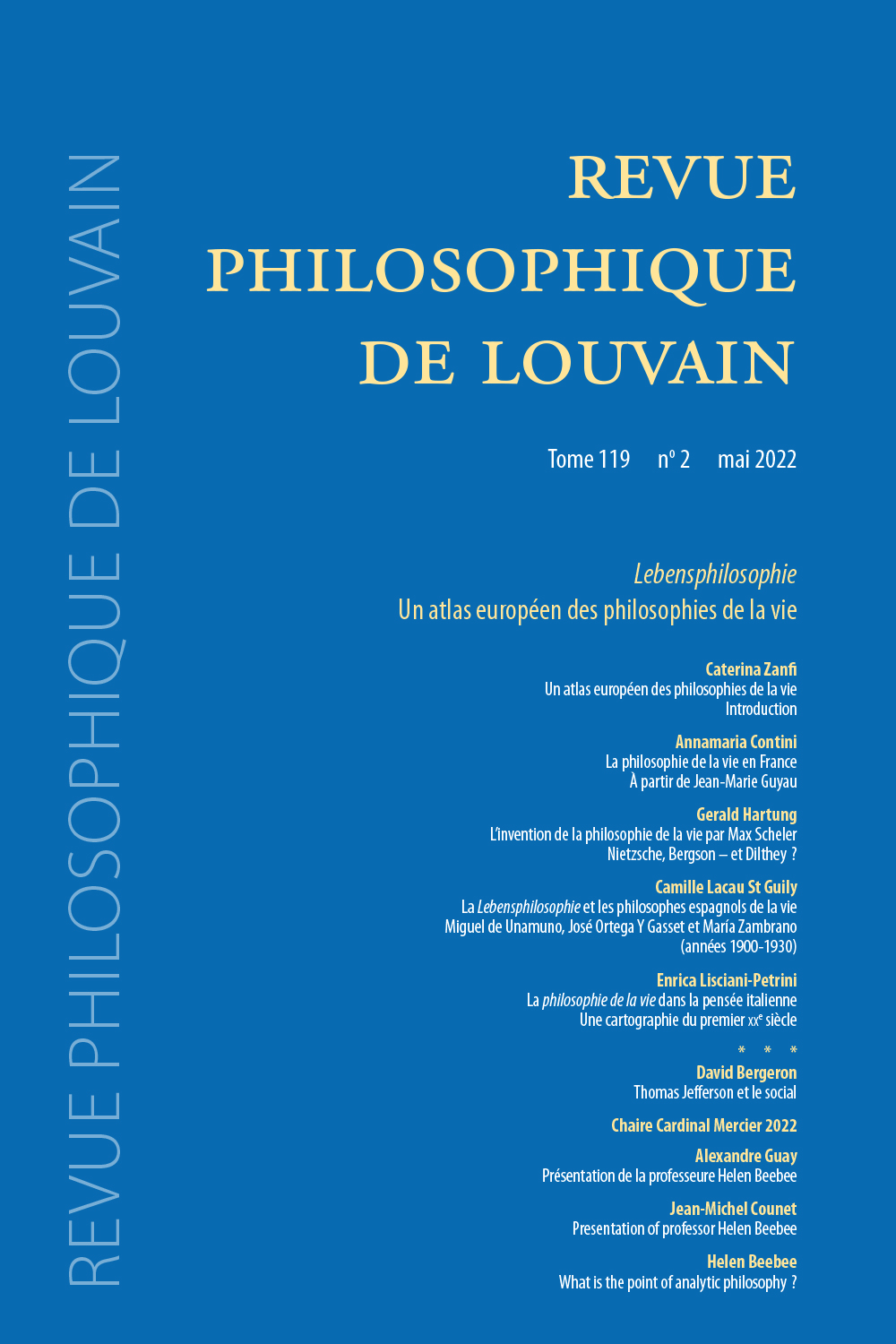 Document Details :

Title: La relation érotique et le trans-paraître effectif des sujets individuels
Subtitle: Avec et contre Michel Henry
Author(s): SHANG, Jing
Journal: Revue Philosophique de Louvain
Volume: 119 Issue: 1 Date: février 2022
Pages: 97-116
DOI: 10.2143/RPL.119.1.3290594

Abstract :
Michel Henry se distingue de la phénoménologie traditionnelle par sa réfutation de la transcendance et par sa thèse de la subjectivité en tant qu'immanence absolue. Pourtant la transcendance s'atteste sous des formes différentes et ne se laisse pas réduire à l'immanence. Ne faudrait-il pas alors questionner le mode d'apparaître de la subjectivité à partir de la relation de transition qu'entretiennent l'immanence et la transcendance – un apparaître qu'on appellerait trans-paraître, un mode d'apparaître qui transgresse l'opposition figée de l'immanence/l'ipse et de la transcendance/l'alter tout en admettant leur différence? En relevant et confrontant les analyses henryennes qui traitent de la relation érotique, notre objectif consistera à montrer l'effectivité du trans-paraître et le rôle essentiel qu'il joue dans la manifestation même des sujets, tant dans la relation érotique que dans l'amour désérotisé. Ainsi, nous cherchons à soutenir qu'en lieu et place de l'ipséité, la subjectivité devrait être comprise comme une individualité dans laquelle la transition de l'ipse et de l'alter est inscrite.


---

Michel Henry differs with traditional phenomenology by refuting transcendence and by understanding subjectivity as absolute immanence. However, transcendence shows itself in different forms and cannot be reduced to immanence. Then should we not question the mode of appearance of subjectivity setting out from the relationship of transition between immanence and transcendence – an appearance one might call 'trans-appearing', a mode of appearing that transgresses the rigid opposition of immanence/the ipse and transcendence/the alter, while admitting the difference between them? By bringing together and comparing Henry's analyses of the erotic relationship our aim is to show the effectiveness of 'trans-appearing' and the essential role it plays in the very manifestation of subjects, both in the erotic relationship and in de-eroticised love. Thus we seek to maintain that instead of ipseity, subjectivity should be understood as an individuality in which the transition from the ipse to the alter is inscribed.


Download article