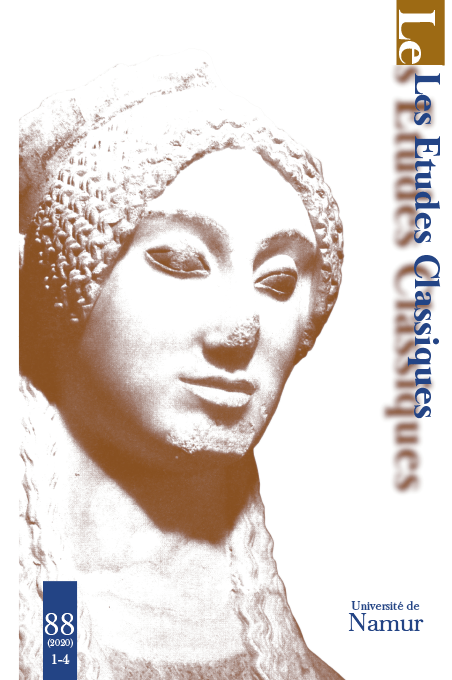 Document Details :

Title: De l'intérêt des lieux communs
Subtitle: Deux épisodes privilégiés de l'histoire de Thémistocle
Author(s): JOUANNO, Corinne
Journal: Les Études Classiques
Volume: 85 Issue: 1-4 Date: 2017
Pages: 337-360
DOI: 10.2143/LEC.85.1.3290515

Abstract :
Le présent article étudie la réception de deux anecdotes relatives à Thémistocle – insomnies du héros, jeune encore, à la pensée des trophées de Miltiade, et altercation ultérieure avec un homme de Sériphos, jaloux de sa gloire. L'étude contextualisée des références auxquelles ces anecdotes célèbres ont donné lieu, de l'Antiquité à la Renaissance, en Grèce et en Occident, illustre la plasticité des lieux communs, matériau modulable se prêtant à une multiplicité de relectures, politiques, moralisantes ou philosophiques: utilisée comme modèle offert à l'imi­tation, ou comme repoussoir, pour critiquer les vices du présent, la figure de Thémistocle a été mise au service de réflexions sur l'amour de la patrie, le lien de l'individu à la collectivité, les devoirs du chef, ou l'importance de la vertu de vigi­lance.


---

The present paper deals with the reception of two anecdotes devoted to Themistocles – his sleepless nights when, still a young man, he thought of Miltiades' military victory, and his subsequent altercation with a man from Seriphos jealous of his fame. A contextual examination of various references to these famous anecdotes, in texts written from Antiquity to the Renaissance, both in Greece and in Western Europe, testifies to the plasticity of commonplaces, that is a malleable material open to multiple reinterpretations, political, ethical and philosophical alike: quoted as a model to imitate or as a foil to the present depravity, the figure of Themistocles was used to feed thought about one's love for his homeland, an individual's link with the body politic, a ruler's duties, or the need for watchfulness.


Download article