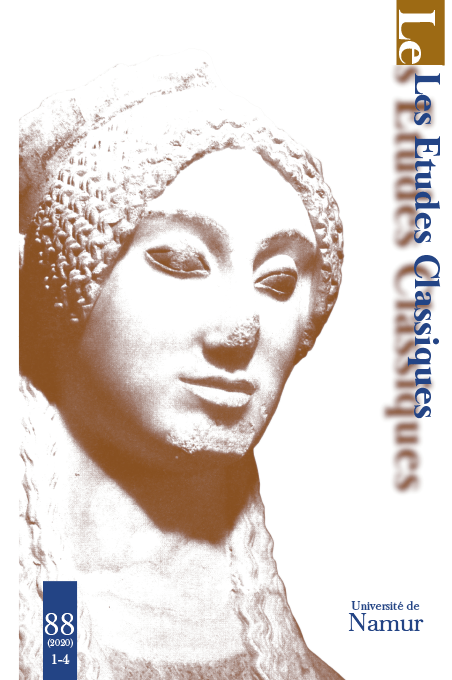 Document Details :

Title: Syntaxe de l'adjectif et genres de textes en grec classique
Subtitle: Les constructions signifiant «il est évident que»
Author(s): MATHYS, Audrey
Journal: Les Études Classiques
Volume: 85 Issue: 1-4 Date: 2017
Pages: 145-187
DOI: 10.2143/LEC.85.1.3290504

Abstract :
En grec ancien, certaines caractéristiques formelles des adjectifs non épithètes paraissent varier selon le genre de textes. L'objet de cet article est de dé­terminer si l'existence de multiples constructions signifiant «il est évident que» et impliquant des adjectifs tels que δῆλος, φανερός, etc., est à mettre en lien avec cette particularité. Pour ce faire, on procède à une étude statistique et à une analyse de chacun des types de constructions. L'étude du type δῆλός εἰμι ὅτι «il est évident que je…» fait apparaître la nécessité de tenir compte non seulement des facteurs ré­gissant la forme de l'adjectif, mais également des critères déterminant la forme du prédicat régi.


---

In Ancient Greek, certain formal features of non-attributive adjectives seem to vary according to the literary genre in which they are used. The aim of this paper is to assess if this provides a good explanation for the existence of several con­structions meaning 'it is obvious that' and containing adjectives such as δῆλος, φανερός, etc. This is done by analysing the frequency and the syntactic characteris­tics of each of the attested constructions. The existence of the type δῆλός εἰμι ὅτι… 'it is obvious that I…' draws attention to the need to take into account the factors governing the use of each type of complement clause in these constructions, since they seem to be partially independent from the form taken by the adjective.


Download article