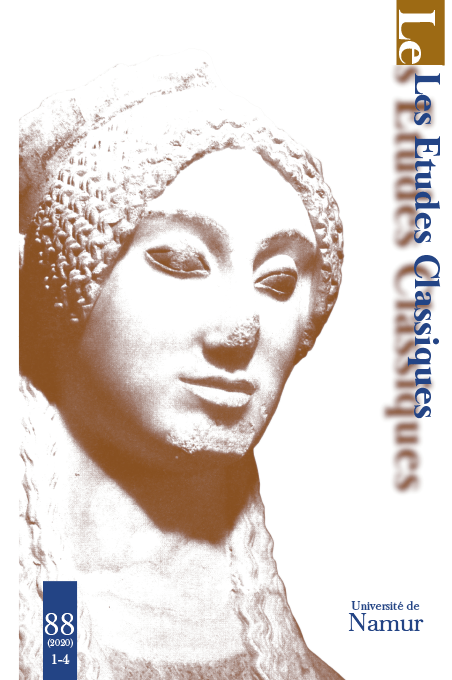 Document Details :

Title: L'assemblage du Commentator Cruquianus
Author(s): STENUIT, Bernard
Journal: Les Études Classiques
Volume: 89 Issue: 1-4 Date: 2021
Pages: 335-348
DOI: 10.2143/LEC.89.1.3290432

Abstract :
L'une des éditions les plus controversées d'Horace est celle de Cruquius (Jacob / Jacques van Cruucke / Cruyck / de Crucque, Messines [Mesen / Meessen, en Flandre] 1520 env. - Bruges 1584). Son apport positif est incontestable, lorsqu'il s'agit de certaines leçons du Blandini(an)us vetustissimus (V), dont la plus célèbre, Campum lusumque trigonem (Sat., I, 6, 126), a chassé pour toujours rabiosi tempora signi, cette leçon faisant pléonasme avec le v. 125. Mais il y a la masse des scholies assemblées par Cruquius, à partir de ses mss et éditions imprimées; il range cette masse sous la rubrique Commentator, sans aucune mention de provenance. Cruquius fut accusé d'imprécision, d'inintelligence, de falsification, d'autant plus aisément que les quatre mss les plus prisés par ses collations, les Bland(iniani), dont le Bland. vetust., qui provenaient tous les quatre de l'abbaye bénédictine du Mont-Blandin près de Gand, furent détruits en 1566 durant les guerres de religion. L'enjeu est de taille: pour l'établissement du texte, Cruquius semble bien avoir lu des témoins d'une troisième branche de la tradition manuscrite. Par ailleurs, si l'on retrouve dans le Commentator des scholies antiques canoniques, issues d'Acron et Porphyrion, il en intègre d'autres dont la provenance n'est pas toujours déterminée. Cruquius les a-t-il inventées? La comparaison avec des scholies de mss peu ou non utilisés permet de répondre par la négative et de réhabiliter, en partie du moins, le Commentator.


---

One of the most controversial editions of Horace is that of Cruquius (Jacob / Jacques van Cruucke / Cruyck / de Crucque. Messines [Mesen / Meessen, in Flanders] ca. 1520 - Bruges 1584). Its positive contribution is indisputable when it comes to certain readings of the Blandini(an)us vetustissimus (V), of which the most famous, Campum lusumque trigonem (Sat., I, 6, 126), forever ousted rabiosi tempora signi, this reading making a pleonasm with v. 125. But there is the mass of scholia assembled by Cruquius from his mss and printed editions; he placed these scholia under the heading Commentator, without any mention of provenance. Cruquius was accused of inaccuracy, unintelligence and falsification all the more easily since the four mss most prized by his collations, the Bland(iniani), including the Bland. vetust., all four of which came from the Benedictine abbey of Mont Blandin near Ghent, were destroyed in 1566 during the Wars of Religion. The stakes are high: for the establishment of the text, Cruquius seems to have known witnesses of a third branch of the manuscript tradition. Moreover, while the Commentator in­cludes ancient canonical scholia from Acro and Porphyrio, he also includes others whose provenance is not always clear. Did Cruquius invent them? Comparison with scholia of mss little or not used allows us to answer in the negative and to rehabili­tate, at least in part, the Commentator.


Download article