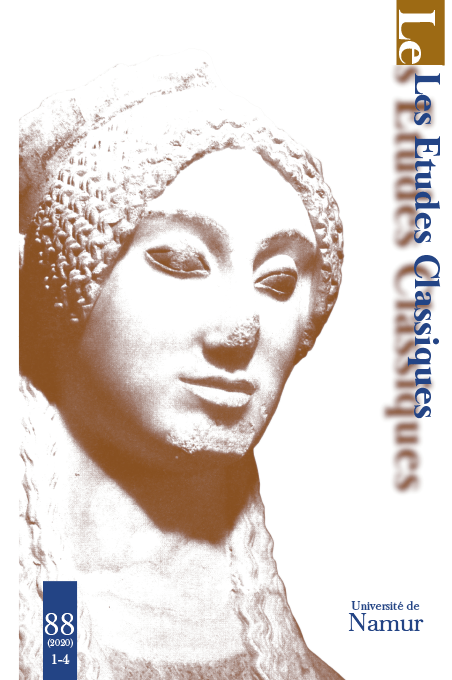 Document Details :

Title: What Makes a Woman Beautiful?
Subtitle: Ernestus Vaenius's Tractatus physiologicus de pulchritudine (Brussels, 1662): Renaissance Physiognomics and the Song of Songs Emblematized
Author(s): PAPY, Jan
Journal: Les Études Classiques
Volume: 89 Issue: 1-4 Date: 2021
Pages: 251-269
DOI: 10.2143/LEC.89.1.3290428

Abstract :
At the crossroads of emblematics, physiognomics and the exegesis of the Song of Songs, Ernestus Vaenius, son of the famous painter Otto Vaenius (Otto van Veen), engages in a mesmerizing new commentary on Solomon's description of the bride. Aiming at a comprehensive analysis of female beauty, Vaenius not only in­tegrates insights offered in widely read emblematic collections such as those by his father Otto and Herman Hugo, but he also includes useful knowledge from medical treatises such as Realdo Colombo's De re anatomica. In line with his father's em­blematical praxis, such Latin poets as Ovid and Lactantius seem to be useful keys for a new interpretation. Yet, whereas Vaenius himself demonstrates his fascination with Egyptian hieroglyphs, Vitruvius' mathematical approach and Giambattista della Porta's highly influential De humana physiognomonia remain at the center of his 'Renaissance' interpretation of female beauty. Moreover, contemporary Neo-Latin poets as well as Agnolo Firenzuola's Delle bellezze delle donne (1548) have guided Vaenius in his endeavor to fully grasp and illustrate Origen's interpretation of Solomon's verses describing all details of his bride's beauty.


---

Au croisement de l'emblématique, de la physiognomonie et de l'exégèse du Cantique des Cantiques, Ernestus Vaenius, fils du célèbre peintre Otto Vaenius (Otto van Veen), livre un commentaire original et fascinant de la description de la fiancée par Salomon. Visant une analyse complète de la beauté féminine, Vaenius intègre non seulement des notions présentes dans des collections emblématiques jouissant d'une grande popularité comme celles de son père Otto ou d'Herman Hugo, mais il inclut également des connaissances tirées de traités médicaux tels que le De re anatomica de Realdo Colombo. Conformément à la pratique emblématique de son père, des poètes latins comme Ovide et Lactance semblent fournir des clés utiles pour une nouvelle interprétation. Cependant, malgré l'engouement de Vaenius pour les hiéroglyphes égyptiens, ce sont l'approche mathématique de Vitruve et le traité influent De humana physiognomia de Jean-Baptiste de Porta qui restent au centre de l'interprétation de la beauté féminine par cet homme de la Renaissance. De plus, les poètes néo-latins contemporains ainsi que les Dialogues sur les beautés des dames d'Agnolo Firenzuola (1548) ont guidé Vaenius dans son effort de saisir pleinement et illustrer l'interprétation d'Origène de la description détaillée de la beauté de la fiancée dans le Cantique des Cantiques.


Download article