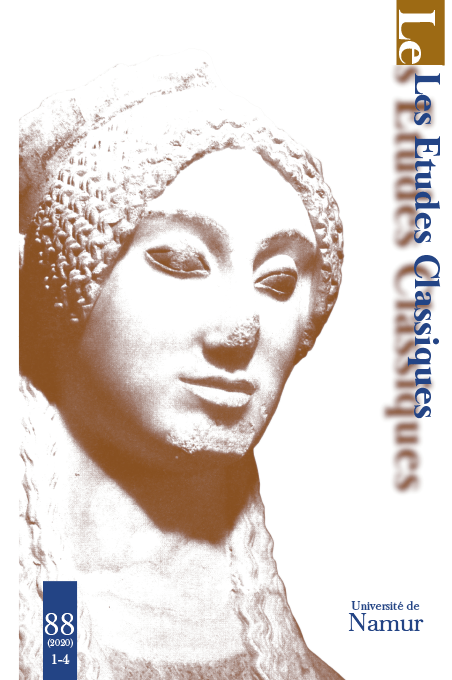 Document Details :

Title: Les astragales de Diogène
Author(s): DOYEN, Charles
Journal: Les Études Classiques
Volume: 89 Issue: 1-4 Date: 2021
Pages: 65-85
DOI: 10.2143/LEC.89.1.3290421

Abstract :
Dans sa République (Πολιτεία), Diogène le Cynique prescrit l'utilisation des astragales comme monnaie (νόμισμα). La présente étude démontre que le choix de Diogène n'est ni sarcastique ni arbitraire, mais s'explique pleinement par la dé­marche philosophique des Cyniques et par la polysémie de l'astragale dans le monde grec, en particulier à Athènes. Diogène s'emploie à modifier les normes politiques, comme il marque d'un autre coin les monnaies (παραχαράττω τὸ νόμισμα). Le héros cynique Héraclès sert de coin monétaire (χαρακτήρ) pour la vie de Diogène comme pour les monnaies d'Alexandre. Les astragales sont une monnaie (νόμισμα) légitime à cause de leur fonction ancienne de σύμβολον et de leur utilisation répandue comme symboles pondéraux et monétaires.


---

In his Republic (Πολιτεία), Diogenes the Cynic ordains by law that as­tragali should be the currency (νόμισμα). This paper shows that Diogenes' choice is neither sarcastic nor arbitrary, but fully relies on the principles of ancient Cynicism and on the polysemy of the astragalus in the ancient Greek world, particularly in Athens. Diogenes strives to change political norms, as he mints coins with another die (παραχαράττω τὸ νόμισμα). The Cynic hero Heracles serves as a coin die (χαρακτήρ) for Diogenes' life as well as for Alexander's coins. The astragali are a le­gitimate currency (νόμισμα) because of their ancient function as σύμβολον and their widespread use as weight and monetary symbols.


Download article