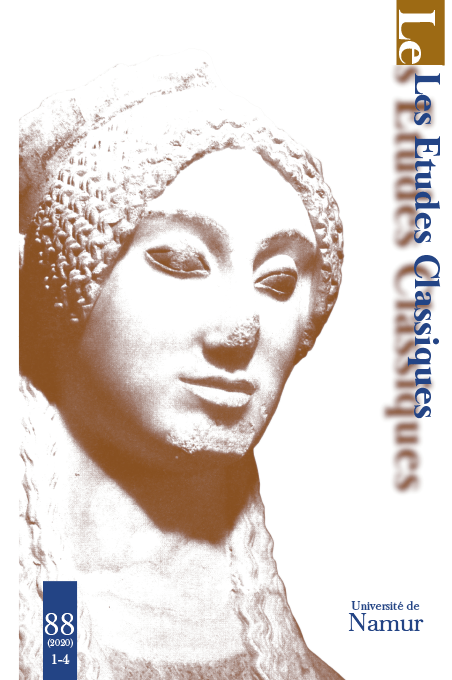 Document Details :

Title: The Syntax of δέ in Post-Classical Documentary Texts
Author(s): BENTEIN, Klaas
Journal: Les Études Classiques
Volume: 89 Issue: 1-4 Date: 2021
Pages: 5-50
DOI: 10.2143/LEC.89.1.3290419

Abstract :
Δέ is one of the most frequently attested particles in Ancient Greek. Re­cent studies, most of which focusing on the Classical period, have analyzed this particle as a 'discourse marker', signaling thematic discontinuity between sentences. While there have been far fewer studies of Post-classical Greek, there seems to be little disagreement that the function of the particle remained essentially the same in later periods of Greek. The main aim of this article is to show that this point of view represents an overgeneralization. Based on a corpus of documentary texts (letters, petitions, and contracts in particular), I argue that δέ was syntactically extended, both in depth and in breadth: on the one hand, the particle comes to be used much more frequently to link clauses (main and subordinate), and even noun phrases; on the other hand, the particle is used not only to link a preposed subordinate clause to a main clause ('apodotic δέ'), but also a postposed subordinate clause to a main clause. Given this syntactic extension, δέ no longer functions exclusively as a dis­course marker: it not only establishes 'textual' relations, but also 'logical' ones. To conclude the article, I discuss a number of factors which may have contributed to δέ's syntactic extension, focusing in particular on functional overlap with two other particles, καί and τε. The analysis is embedded in the Systemic Functional paradigm.


---

Δέ est l'une des particules les plus fréquemment attestées en grec ancien. Des études récentes, portant pour la plupart sur la période classique, ont ana­lysé cette particule comme un «marqueur du discours», indicateur d'une disconti­nuité thématique entre les phrases. Bien qu'il y ait eu beaucoup moins d'études sur le grec post-classique, il semble peu contesté que la fonction de la particule soit restée essentiellement la même en grec durant les périodes ultérieures. L'objectif principal de cet article est de montrer que cette vision représente une généralisation excessive: à partir d'un corpus de textes documentaires (en particulier des lettres, des pétitions et des contrats), nous soutenons que δέ a fait l'object d'une extension syntaxique, à la fois en profondeur et en largeur: d'une part, la particule est de plus en plus utilisée pour lier des propositions (principales et subordonnées), voire des phrases nominales; d'autre part, la particule est utilisée non seulement pour lier une proposition subordonnée antéposée à une principale («δέ apodotique»), mais éga­lement pour lier une subordonnée postposée à une principale. Compte tenu de cette extension syntaxique, δέ ne fonctionne plus exclusivement comme marqueur du discours: il établit non seulement des relations «textuelles», mais également des relations «logiques». Pour conclure, nous examinons un certain nombre de facteurs qui pourraient avoir contribué à l'extension syntaxique de δέ, en mettant l'accent sur le chevauchement fonctionnel avec deux autres particules, καί et τε. L'analyse s'inscrit dans le cadre de la «linguistique systémique fonctionnelle».


Download article