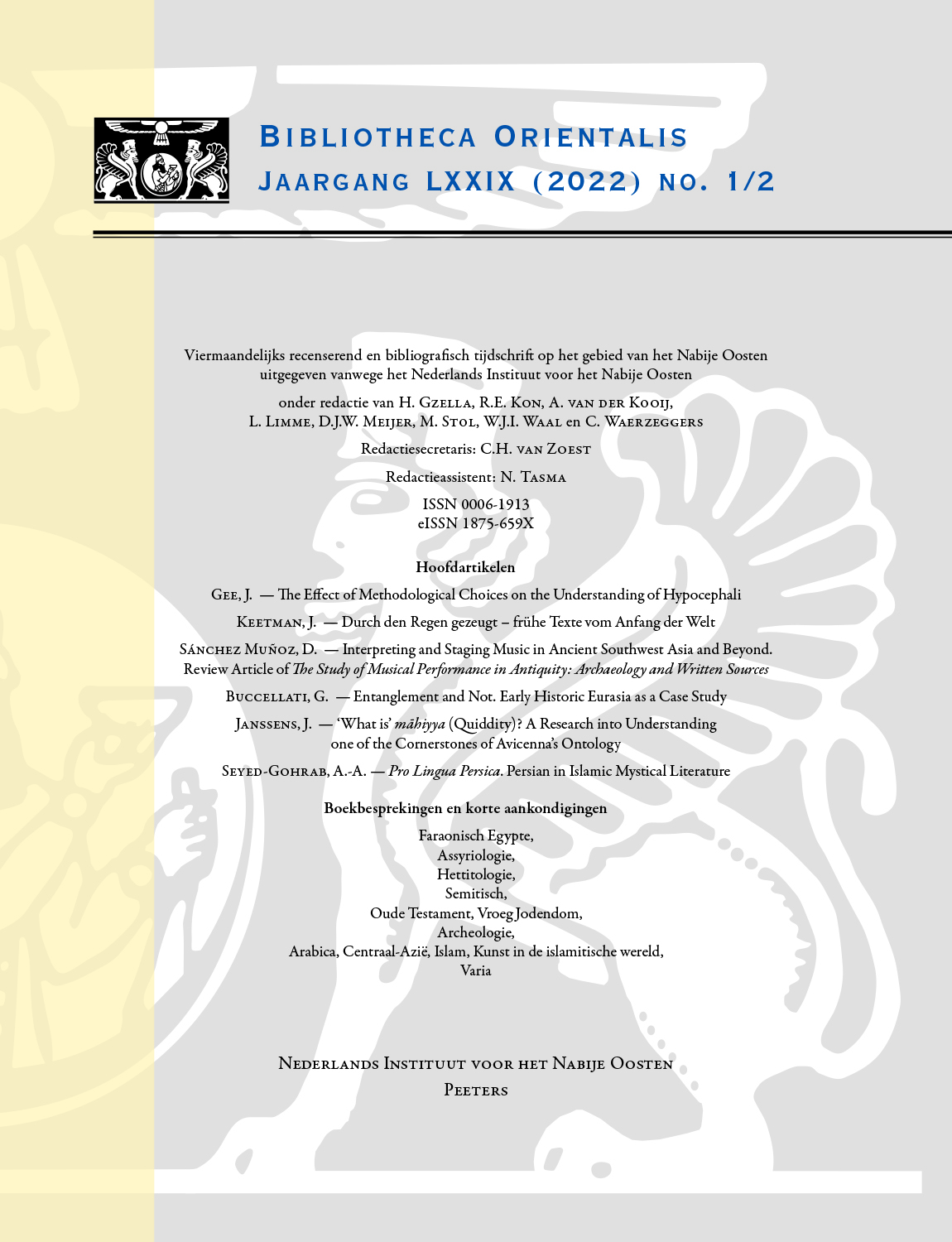 Document Details :

Title: Archeologie
Author(s):
Journal: Bibliotheca Orientalis
Volume: 78 Issue: 5-6 Date: 2021
Pages: 749-783
DOI: 10.2143/BIOR.78.5.3290414

Abstract :
CHOLIDIS, N., KATZY, E., KULEMANN-OSSEN, S. (Hrsg.) - Zwischen Ausgrabung und Ausstellung. Beiträge zur Archäologie Vorderasiens. Festschrift für Lutz Martin. (marru 9). Zaphon, Münster, 2020.

NUNN, A., PIENING, H. (eds.) - Mesopotamian Scuplture in Colour. PeWe Verlag, Gladbeck, 2020.

ROVA, E., TONUSSI, M. (eds.) - At the Northern Frontier of Near Eastern Archaeology. Recent Research on Caucasia and Anatolia in the Bronze Age. Proceedings of the International Humboldt-Kolleg Venice, January 9th-January 12th, 2013. (Publications of the Georgian-Italian Shida-Kartli Archaeological Project 2; Subartu 38). Brepols, Turnhout, 2017.

STREIT, K., GROHMANN, M. (eds.) - Culture of Defeat. Submission in Written Sources and the Archaeological Record. Proceedings of a Joint Seminar of the Hebrew University of Jerusalem and the University of Vienna, October, 2017. (Gorgias Studies in the Ancient Near East 16). Gorgias Press LLC, Piscataway, 2020.

HELLMUTH KRAMBERGER, A. - Die Pfeilspitzen aus Tall Šēḫ Ḥamad / Dūr-Katlimmu von der mittelassyrischen bis zur parthisch-römischen Zeit in ihrem westasiatischen und eurasiatischen Kontext. (Berichte der Ausgrabung Tall Šēḫ Ḥamad / Dūr-Katlimmu 22). Verlag Otto Harrassowitz, Wiesbaden, 2016.

LIPSCHITS, O., OEMING, M., GADOT, Y. (eds.) - Ramat Raḥel IV. The Renewed Excavations by the Tel-Aviv-Heidelberg Expedition (2005-2010): Stratigraphy and Architecture. (Monograph Series 39). Eisenbrauns, University Park, 2020.

EIDEM, J. (ed.) - Zagros Studies. Proceedings of the NINO Jubilee Conference and Other Research on the Zagros Region. (PIHANS 130). Nederlands Instituut voor het Nabije Oosten, Leiden, 2020.

Korte aankondigingen:
KNAPP, A.B., WEBB, J., MCCARTHY, A. (eds.) - J.R.B. Stewart. An Archaeological Legacy. (Studies in Mediterranean Archaeology 139). Paul Aströms Förlag, Nicosia, 2013.

GEORGIOU, G., KARAGEORGHIS, V. - A Cypro-Archaic Tomb at Xylotymbou and Three Cypro-Classical Tombs at Phlasou. From Exuberance to Recession. (Studies in Mediterranean Archaeology 140). Paul Aströms Förlag, Nicosia, 2013.

GREER, J.S. - Dinner at Dan. Biblical and Archaeological Evidence for Sacred Feasts at Iron Age II Tel Dan and their Significance. (Culture and History of the Ancient Near East 66). Brill, Leiden, 2013.

MUHLE, B. - Steinerne Keulenköpfe aus Assur. (Wissenschaftliche Veröffentlichungen der Deutschen Orient-Gesellschaft 150). Verlag Otto Harrassowoitz, Wiesbaden, 2018.


Download article