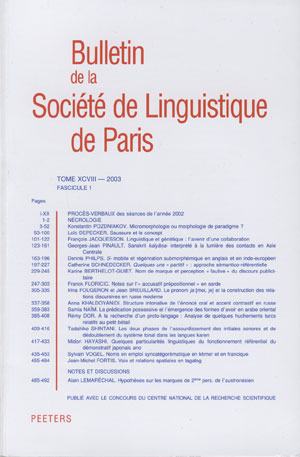 Document Details :

Title: La catégorie égophorique dans les langues de l'Amdo (Tibet)
Author(s): SIMON, Camille
Journal: Bulletin de la Société de Linguistique de Paris
Volume: 116 Issue: 1 Date: 2021
Pages: 281-326
DOI: 10.2143/BSL.116.1.3290239

Abstract :
Cet article propose une réflexion sur les traits sémantiques et pragmatiques qui définissent la catégorie grammaticale de l'égophorique, en s'appuyant principalement sur des données de langues tibétiques, et plus marginalement sur des données de langues en contact avec les dialectes tibétains de l'Amdo et qui ont développé cette catégorie sous l'influence des langues tibétiques. À travers ces données, nous montrons que l'égophorique articule deux dimensions liées aux notions d'implication personnelle dans l'évènement décrit et d'autorité épistémique sur l'information rapportée. Selon les langues, l'une ou l'autre de ces deux dimensions peut être prépondérante, ce qui explique des disparités en termes de distribution des morphèmes égophoriques entre les différentes langues. La prise en compte de ces deux dimensions permettrait donc de préciser la description typologique de l'égophorique, et serait un préalable nécessaire à toute comparaison inter-linguistique.


---

This article proposes reflections on the semantic and pragmatic features defining the grammatical category of egophoric, based mainly on data from Tibetic languages, and more marginally on data from languages in contact with Amdo-Tibetan dialects that have developed this category under the influence of Tibetic languages. Through these data, we show that egophoricity articulates two dimensions related to the notions of personal involvement in the described event and epistemic authority over the reported information. Depending on the language, one or the other of these two dimensions may be predominant, which explains the disparities in the distribution of egophoric morphemes, cross-linguistically. Taking these two dimensions into account would therefore make it possible to refine the typological description of egophoricity, and would be a necessary prerequisite for any cross-linguistic comparison.


Download article