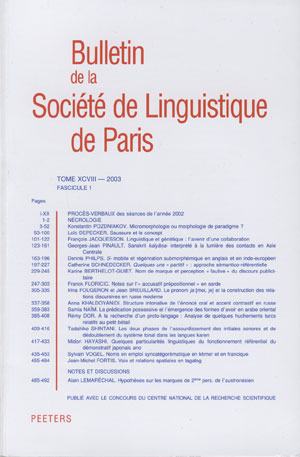 Document Details :

Title: Répondre aux interrogations totales
Subtitle: 'Oui', 'non' et les autres stratégies du grec ancien
Author(s): DENIZOT, Camille
Journal: Bulletin de la Société de Linguistique de Paris
Volume: 116 Issue: 1 Date: 2021
Pages: 77-124
DOI: 10.2143/BSL.116.1.3290233

Abstract :
Cet article propose un examen des différentes manières de répondre aux interrogations totales en grec ancien. En s'appuyant sur le corpus de Platon, on examine en particulier le sens de ναί [naí] «oui», le fonctionnement spécifique de la négation propositionnelle dans les réponses négatives, et le système des réponses dans l'interro-négation. Une prise en compte de la diachronie permet de montrer que le sens de ναί [naí] a évolué, passant d'une particule emphatique sensible à la polarité positive à une marque d'accord interpersonnel. Il est également nécessaire de prendre en compte les expressions du type «oui, par Zeus» / «non, par Zeus» (νή [nɛ́:] / μά [má]), qui sont des marqueurs dialogiques sensibles à la polarité et qui doivent être intégrés aux outils de réponse aux interrogations totales. Leur apparition progressive au cours de l'époque classique introduit de l'instabilité dans le système, ce dont témoigne la complexité de la collocation ναὶ μά [naí má].


---

This article examines the different ways of answering polar questions in Ancient Greek. Based on the Platonic corpus, it examines in particular the meaning of ναί [naí] 'yes', the specific way in which propositional negation functions in negative answers, and the system of answers in interrogation-negation. Taking into account diachrony, we show that the meaning of ναί [naí] has evolved from an emphatic particle sensitive to positive polarity to a mark of interpersonal agreement. It is also necessary to take into account expressions such as 'yes, by Zeus' / 'no, by Zeus' (νή [nɛ́:]/ μά [má]), which are polarity-sensitive dialogical markers and should be acknowledged among the devices used for answering total questions. Their gradual appearance during the classical period introduces instability into the system, as evidenced by the complex status of the collocation [nai má].


---

Dieser Artikel untersucht die verschiedenen Möglichkeiten zur Beantwortung von Gesamtfragen im Altgriechischen. Auf der Grundlage von Platos Korpus untersuchen wir insbesondere die Bedeutung von ναί [naí] 'ja', die spezifische Funktionsweise der Satzverneinung bei negativen Antworten und das System der Antworten im negativen Fragesatz. Unter Berücksichtigung der Diachronie stellt sich heraus, dass sich die Bedeutung von ναί [naí] von einer emphatischen, für positive Polarität empfindlichen Partikel zu einem Merkmal der Übereinstimmung zwischen den Personen übergegangen ist. Es ist auch notwendig, Ausdrucksformen wie 'ja, bei Zeus' / 'nein, bei Zeus' (νή [nɛ́:]/ μά [má]) zu berücksichtigen, die polaritätsempfindliche dialogische Merkmale sind und zu den Hilfsmitteln zur Beantwortung von Gesamtfragen gerechnet werden sollten. Ihr allmähliches Auftreten in der klassischen Zeit bringt Instabilität in das System, was die Komplexität der ναὶ μά [naì má] Kollokation bezeugt.


Download article