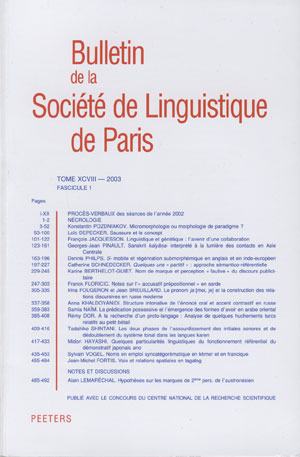 Document Details :

Title: Étude des chaînes de référence en français
Subtitle: Liens entre modélisation linguistique et analyse quantitative
Author(s): LANDRAGIN, Frédéric
Journal: Bulletin de la Société de Linguistique de Paris
Volume: 116 Issue: 1 Date: 2021
Pages: 41-75
DOI: 10.2143/BSL.116.1.3290232

Abstract :
Une chaîne de référence – ou ensemble des expressions référentielles portant sur un même référent – est un objet linguistique dont l'étude et la modélisation impliquent de nombreuses facettes: exploration des types d'accès au référent, délimitation et typologie des expressions référentielles, typologie des chaînes elles-mêmes. Pour appréhender efficacement les chaînes dans un corpus, des outils de visualisation et des mesures quantitatives spécifiques sont requis. Cet article passe en revue les avancées de projets qui se sont succédé pendant une dizaine d'année, et présente un retour d'expérience sur les analyses quantitatives menées et leurs implications sur la modélisation linguistique. Ce travail suit un cycle pour lequel nous proposons un bilan et donnons des perspectives.


---

A coreference chain – a set of referring expressions that all have the same referent – is a linguistic object whose study and modelling involves many facets: exploration of the types of access to the referent, delimitation and typology of referring expressions, typology of the chains themselves. To efficiently apprehend the chains within a corpus, specific visualization tools and quantitative measurements are required. This article reviews several consecutive projects carried out in the past ten years, and presents feedback on the quantitative analyses that were conducted and their implications for linguistic modelling. This paper comes at the end of a cycle, for which it proposes an assessment and perspectives.


---

Eine Koreferenzkette – eine Reihe von verweisenden Ausdrücken, die alle auf denselben Referenten verweisen – ist ein linguistisches Objekt, dessen Untersuchung und Modellierung viele Facetten umfasst: Erforschung der verschiedenen Zugangsarten zum Referenten, Abgrenzung und Typologie der verweisenden Ausdrücke, Typologie der Ketten selbst. Um die Ketten innerhalb eines Korpus effizient erfassen zu können, sind spezifische Visualisierungswerkzeuge und quantitative Messungen erforderlich. Dieser Artikel gibt einen Überblick über den Fortschritt mehrerer Projekte, die seit etwa zehn Jahren aufeinander gefolgt sind, und präsentiert ein Feedback zu den durchgeführten quantitativen Analysen und deren Auswirkungen auf die linguistische Modellierung. Dieser Artikel schließt einen Forschungszyklus ab, für den wir eine Bestandsaufnahme der Ergebnisse machen und Perspektiven eröffnen.


Download article