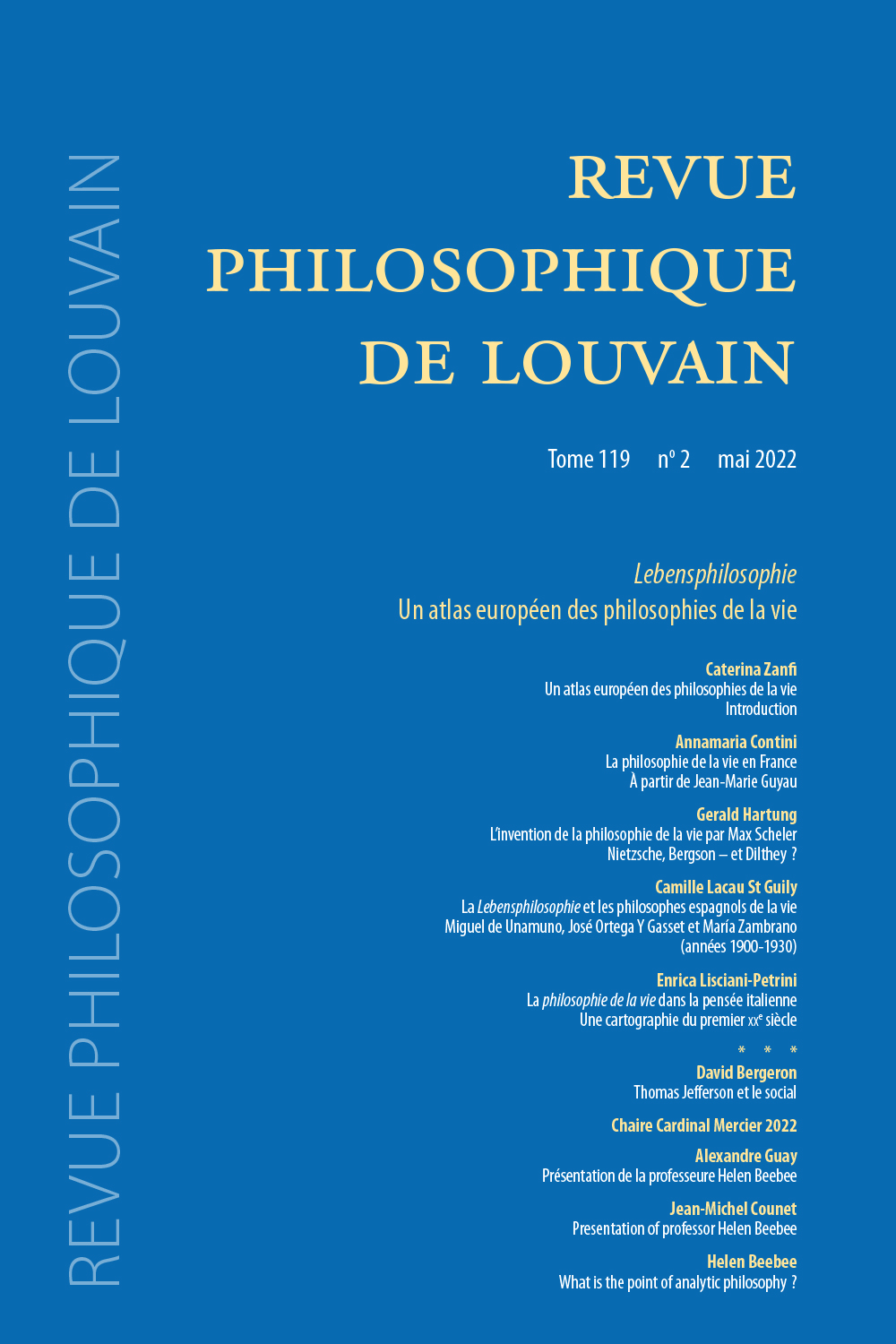 Document Details :

Title: Une phénoménologie de la vie mensongère
Author(s): FROGNEUX, Nathalie
Journal: Revue Philosophique de Louvain
Volume: 118 Issue: 4 Date: novembre 2020-2021
Pages: 573-591
DOI: 10.2143/RPL.118.4.3290142

Abstract :
Nous nous situons dans un cadre anthropologique pour parler de «vie dans le mensonge» ou vie en porte-à-faux, car elle dépasse la question morale de l'intention égoïste ou altruiste, et même des conséquences bonnes ou mauvaises de la tromperie pour le trompé. La vie dans le mensonge se caractérise par une déréalisation de soi et du monde qui brise les conditions d'un monde commun, par conséquent, elle ne désigne pas seulement celle du menteur qui se dédouble, de manière volontaire ou involontaire, mais rayonne dans l'entourage. Dès lors, le mensonge et le secret, mais aussi le déni et la post-vérité s'avèrent être contigus, car ils prolifèrent de concert, mettant ainsi à distance le monde et les autres. Pourtant, des moments décisifs résonnent comme des appels possibles à une réunification de soi, afin de retrouver les relations aux autres plus proches et fiables et une certaine justesse dans le monde. Par contre, une fuite dans l'éloignement peut conduire à l'effondrement d'une vie ou au moins d'une vie commune.


---

We place ourselves in an anthropological framework to speak of «life in a lie» or cantilever life, as it goes beyond the moral question of a selfish or altruistic intention and even the good or evil consequences of the deception for the person deceived. Life in a lie is characterised by a loss of the reality of self and of the world, which shatters the conditions of a common world, and, as a result, it refers not only to the life of the liar who splits himself voluntarily or involuntarily, but radiates out to those around him. Thus lies and secrets, and likewise denials and post-truth, prove contiguous, as they proliferate hand in hand, thereby distancing the world and others. However, decisive events resonate as possible calls to reunification of self, with a view to recovering closer and more reliable relations with others and a degree of adequacy in the world. On the other hand, flight into isolation can lead to the collapse of a life or at least of life in common.


Download article