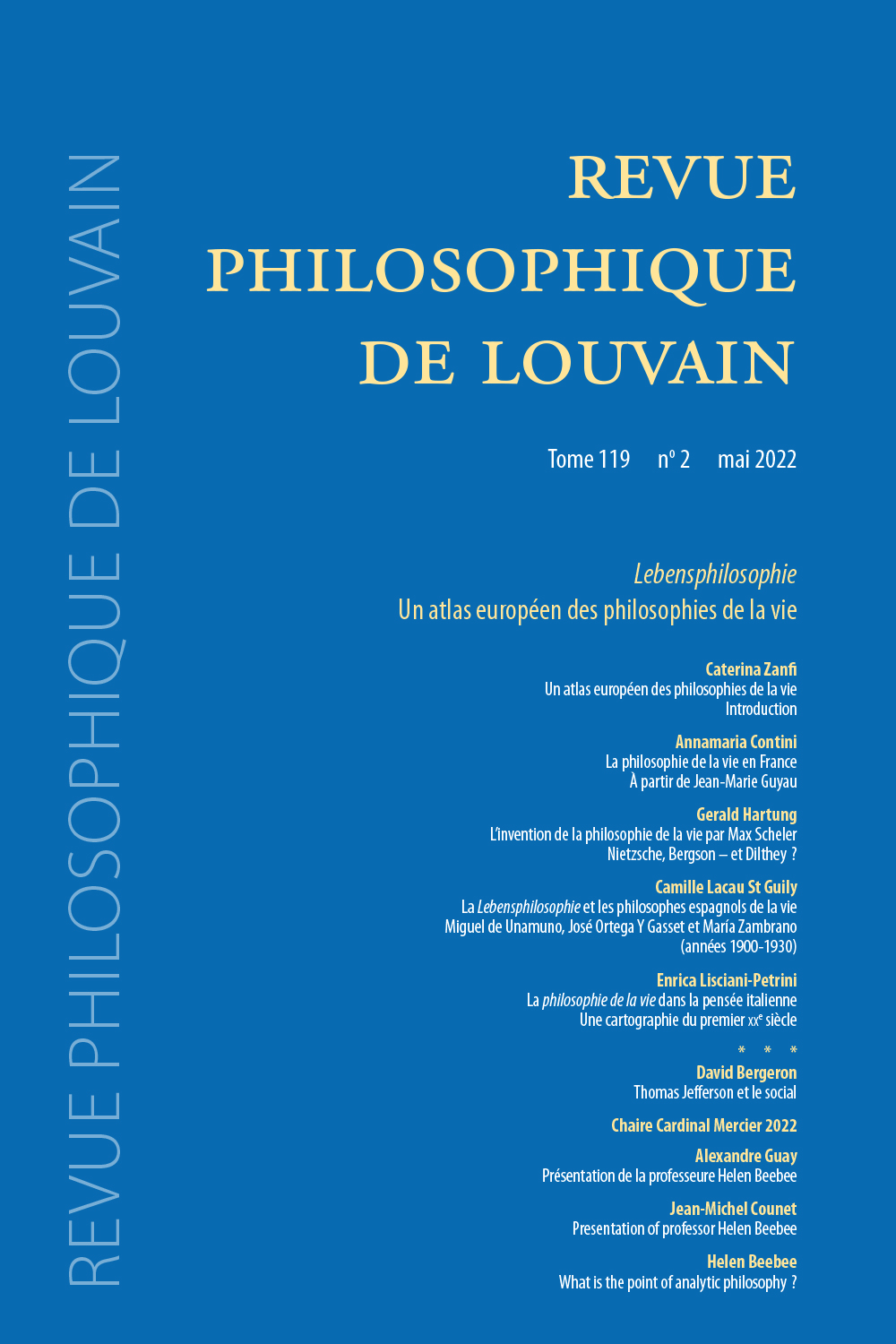 Document Details :

Title: Homo ludens versus homo œconomicus
Subtitle: Élements pour une valorisation du jeu en anthropologie philosophique
Author(s): PIERRON, Jean-Philippe
Journal: Revue Philosophique de Louvain
Volume: 118 Issue: 4 Date: novembre 2020-2021
Pages: 549-571
DOI: 10.2143/RPL.118.4.3290141

Abstract :
Pour une anthropologie philosophique, sommée par les méfaits de la colonisation administrative du monde vécu sur ce qu'être humain veut dire, l'acte de jouer, loin de n'être que secondaire, peut prendre une place centrale, voire l'allure d'une réplique. On cherche à penser ici combien l'homo oeconomicus, celui de la réification de la théorie des jeux, doit être revisité et contesté par un homo ludens pour lequel, le jeu, à chaque fois, est à faire. Cet article, en écho à l'herméneutique de la facticité et au thème heideggérien de l'être-à-chaque-fois (Jeweiligkeit), analysé par Michel Dupuis, cherche à en montrer la fécondité. Il invite à penser le jeu, comme activité transversale, engagée dans les arts; les activités laborantes ou pratiques, éthiques et politiques. Jouer, au temps prévisible et mécanisé d'une science de l'action, oppose la temporalité ouverte d'une sagesse pratique exploratrice de possibles. Cet article plaide pour un usage étagé du concept de jeu, entendu ni dans un sens technique étroit qui analyse les types de jeux bien identifiés et très formalisés; ni dans un sens extensif trop large qui mettrait du jeu partout. Le «jeu jouant» ou playing dans sa dimension d'enjeu d'existence, est capacité d'ouverture à l'événement, constituant un écart en imagination avec le monde objectif et ses normes, s'amusant du plaisir qu'il y a à faire varier des possibles investis affectivement et effectivement. On suggère ainsi d'articuler trois strates d'analyses: a) le «jouer» comme existential mobilisant une manière d'être au temps qui, dans l'instant du «à chaque fois», ouvre et explore des possibles tout en suspendant l'hypothèse du monde; b) les jeux comme la formalisation et stabilisation d'une pluralité de manières de jouer via des règles (les jeux réglés); c) «Le jeu», objet de préférences et d'options valorisées personnellement ou collectivement, parfois jusqu'à la réification idéologique de la règle du jeu (du jeu libre au «jeu éducatif» jusqu'au jeu économique).


---

For a philosophical anthropology summarized by the misdeeds of the administrative colonisation of the lived world in regard to what it means to be human, the act of playing, far from being secondary, can occupy a central position, even appearing as a reply. We seek to think here how homo oeconomicus, the reifier of the theory of games, must be revisited and contested by a homo ludens for whom playing on each occasion is to be engaged upon. This article, echoing the hermeneutic of facticity and the Heideggerian theme of awhileness of temporal particularity (Jeweiligkeit), analysed by Michel Dupuis, seeks to show its fruitfulness. It invites us to think game as a transversal activity engaged in the arts, designing or practical, ethical and political activities. Playing opposes the open temporality of a practical wisdom that explores possibles to the foreseeable and mechanised time of a science of action. This article pleads for a tiered usage of the concept of game, understood neither in a narrow technical meaning that analyses clearly identified and very formalised types of games; nor in an excessively broad extensive meaning that would see games everywhere. Playing in its dimension of what is at stake in existence, is capacity for openness to the event, constituting a separation in imagination from the objective world and its norms, amusing itself with the pleasure to be found in varying possibles invested affectively and effectively. Thus we suggest articulating three strata of analyses: a) «playing» as existential mobilising a way of being in time which in the instant of «on each occasion» opens and explores possibles while suspending the hypothesis of the world ; b) games as the formalisation and stabilisation of a plurality of ways of playing by means of rules (regulated games); c) «the game», object of preferences and options valued personally or collectively, sometimes going as far as the ideological reification of the rules of the game (from the free game to the « educational game » and even to the economic game).


Download article