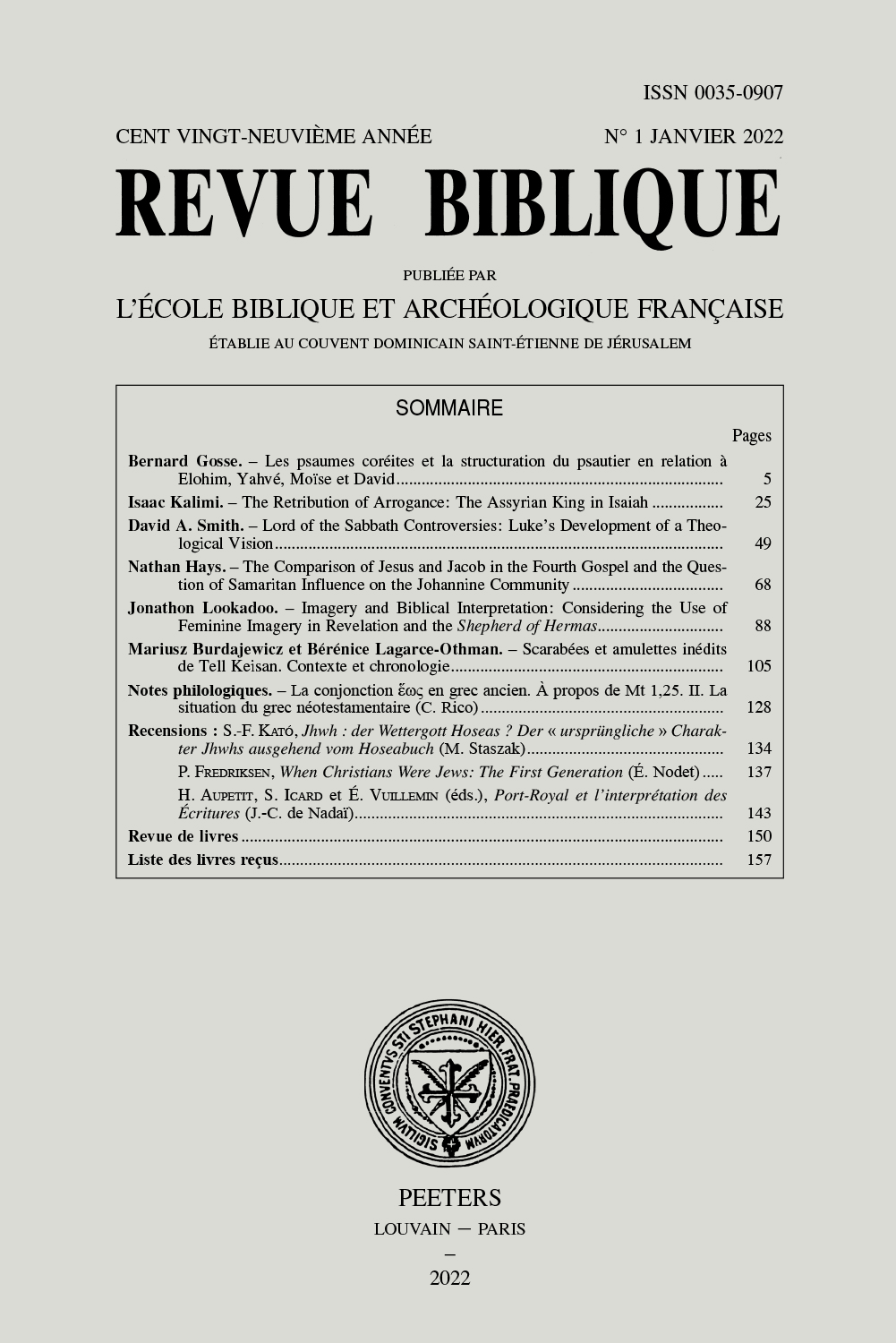 Document Details :

Title: L'évolution de Paul et ses voyages
Author(s): NODET, Étienne
Journal: Revue Biblique
Volume: 128 Issue: 4 Date: 2021
Pages: 546-579
DOI: 10.2143/RBI.128.4.3289743

Abstract :
Le livre des Actes suggère une continuité de Jésus à Paul en passant par les apôtres, tout le monde partageant la même doctrine. Cela concorde mal avec le récit que Paul fait de ses débuts, quand il agissait en franc-tireur (Ga 1-2). En fait, les Actes offrent non pas un récit lisse, mais une thèse, obtenue par un réarrangement chronologique et littéraire de divers fragments narratifs écrits. Ceux-ci peuvent être en grande partie retrouvés par une étude un peu besogneuse des déplacements de Paul, grâce au «Texte Occidental» des Actes et à un ancien «Journal de Voyage» rédigé en «nous», qui retraçait son tout premier parcours, et qui a servi de cadre à divers remaniements. Cela permet de mieux comprendre l'évolution de Paul après Antioche, de Thessalonique à Corinthe; il n'est devenu «paulinien» que progressivement, d'où des ruptures, en particulier avec Barnabé.


---

The book of Acts displays a continuum from Jesus through Paul, with the mediation of the Apostles, but this hardly matches Paul's own account of his first steps, when he was a freelancer (Gal 1-2). Indeed, the narrative of Acts is not smooth, for it is the result of a reorganization of several fragments of various written stories. These traditions can be in a large part recovered by a tedious study of his trips, thanks to the 'Western Text' of Acts and the early 'Travel Diary' of an eyewitness (the we-passages), which provided a frame for various reworkings. Thus, the evolution of Paul's thoughts can be better understood, starting from the epistle to the Thessalonians. When he became 'Pauline', properly speaking, he had to part from early assistants like Barnabas.


Download article